This lemon Parmesan salad dressing tastes best on a bed of plain lettuce topped with some homemade croutons. It has the most flavor if you let the garlic sit for a good 24 hours. I usually double this and keep it in the refrigerator all summer for easy and quick salads when I have extra lettuce from the garden. Well, when the rabbits don't eat it all!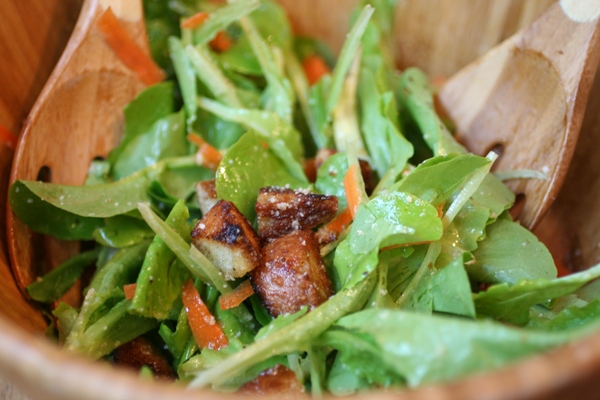 For this salad, I just shaved a carrot with my vegetable peeler, then tossed with fresh lettuce, homemade croutons, and about 3 tablespoons of vinaigrette.
Lemon Parmesan Vinaigrette
Ingredients
½ cup olive oil
¼ cup lemon juice (or 2 lemons, juiced)
2 garlic cloves
1 tablespoon honey
¼ cup grated Parmesan cheese
dash of pepper
Instructions
In a small to medium sized mason jar, combine all ingredients except garlic cloves.
Using the flat side of a knife, smash cloves until flat. Add to mixture.
Secure lid and shake well.
Refrigerate for up to 24 hours before serving to let garlic seep into dressing.