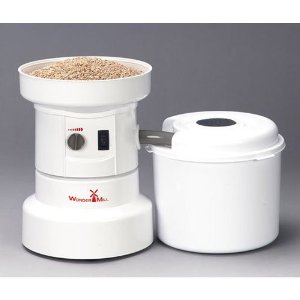 After getting my new Wondermill Grain Mill from Life's Daily Bread a few weeks ago, I have been looking forward to a Prep Day! This one was quite successful, I was able to try my new batch bread recipe from my friend Anna and I made 4 pizza crusts at one time.  I precooked them, let them cool and stored them between wax paper in a clean trash bag. More on that later this week, plus a great video tutorial on homemade bread making tips!
Most of the things I made were new recipes, so I'll be sharing those with you soon.  Here is what I finished:
4 Pizza Crusts
36 Flour Tortillas
40 Wheat Waffle Sticks
Slow Cooker Yogurt – total flop, came out runny! eek, anyone have suggestions?
2 dozen Carrot Apple Muffins
1 lb homemade butter
3 loaves whole grain bread
Did anyone join me and do any prep work or freezer items this week? Share your accomplishments, ideas and comments on monthly prep days. I would love to hear from you! There is an image upload under the comments where you can share your food.