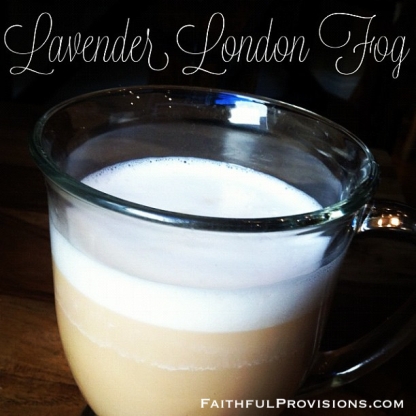 One of my new favorite things is tea. I'm trying to wean myself from drinking so much coffee in order to cut back on my caffeine intake. I love my morning lattes, but this Lavender London Fog is one of my new favorite afternoon treats, and it has half the caffeine of coffee. You can go to Starbucks and order this London fog (aka tea latte), but this is how you can make it at home.
The lavender is not a necessity but it sure does add a great element to the tea—it gives it a great fragrance and rich flavor. I use Earl Grey Lavender tea, but you can easily add lavender, just be sure it's food grade lavender. (Please note, it's completely optional. You can leave the lavender out altogether.)
You can use teabags or loose leaf tea (that's my preference). If you go with loose leaf tea, be sure to use a teapot with a steeping element, such as any of these steeping teapots on Amazon. You can steep tea in the water and make the milk separately, or you can steep the tea leaves in the milk. That's what I prefer, the no-water steeping method, because I like a stronger, more flavorful taste.
THE NO-WATER STEEPING METHOD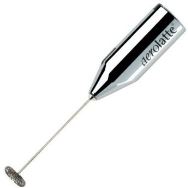 I actually use almond milk, but coconut or rice milk would be wonderful as well. I get mine frothy by using a hand-held frother, like this Aerolatte Milk Frother. If you have a Magic Bullet, that works great too. Froth it, then heat it to almost boiling, then put it in your cup. I add the tea leaves to the hot milk and let it steep for about 5 minutes. (The milk must be really hot to steep the tea leaves. That's why you want it close to boiling—but don't let it burn!)
THE WATER STEEPING METHOD

Make a normal cup of tea, but use less water. (You want the tea stronger, like an espresso is a stronger coffee.) For this Water Steeping Method, pour 3-4 ounces hot boiling water over the tea leaves and let it steep for 5 minutes. Use the mesh strainer to get rid of the tea leaves. Froth your milk, heat, then add with creamer to the tea. Enjoy! (Remember, if you are using tea bags, you'll just steep and then discard the tea bags.)
London Fog with Lavender (Starbucks Copycat Recipe)
Ingredients
1-2 teaspoons of French vanilla creamer
⅓ cup milk, frothed and heated
2 teaspoons loose leaf Earl Grey tea or one Earl Grey tea bag
¼ teaspoon food grade lavender (optional)
3-4 ounces water
Instructions
Froth the milk, then heat.
Boil water.
Steep the tea leaves (or tea bag) in the milk (for a stronger taste) or in the water.
Discard tea leaves (or tea bag).
Combine milk, water, and creamer. Enjoy!