It's time to pull out the recipes for those family favorites and be sure you have all the ingredients. I have found the best way to have a stress-free enjoyable holiday is to begin cooking now. It's made super easy using some of my favorite make-ahead, and even freezer-friendly recipes below.
Now is a great time to not only get what you need for your traditional meal, but also stock up on baking supplies and other foods that only go on sale this time of year. (Check out Seasonal Sales Cycle for November to get the best deals for what is on sale NOW!)
Here are some of my favorite freezer-friendly, make-ahead, Thanksgiving Recipes.
APPETIZERS
SIDES
SOUPS
BREADS
DESSERTS
Other Recipes I love that aren't necessarily make-ahead or freezer friendly:
SIDES
SALADS
FREE HOLIDAY PLANNING PRINTABLES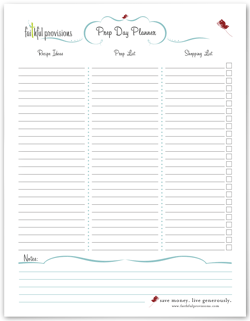 Be sure to get organized for your Thanksgiving dinner with my shopping lists. If there's one thing that drives me crazy, it's having to go back to the grocery for something that I have forgotten. The more organized I can be, the more I can enjoy spending this holiday with my family and friends!
Prep Day Planner – Use this planner to plan anything from a Freezer Cooking Day, a family get together or your next holiday meal. Columns make space for your Recipe Ideas, Prep List, and even your Shopping List.
Shopping List – Fill in the store name, then you have blanks for item name, price, and if you have a coupon available. Plus, there's extra room for notes and jotting things down.
Multiple Store Shopping List – Two stores? One list! Divided so that you can stay organized and keep track of what's on sale where.
Meal Planning Template – This auto-fill template allows you to type in your meals and then print it out! It includes breakfast, lunch, snacks and dinner. Choose from dine in, dine out or carry out options.