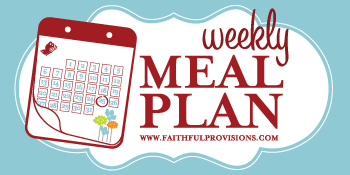 Welcome! For those of you who are new to Meal Planning checkout my resources:
My Meal Planning Tab – to help you out while you are getting started – lots of great resources.
Recipe Box – A comprehensive list of all my recipes!
FREE Meal Planning Template – Just click on the image above to download it. The best part is that you can even type in your meals and print it out! Or, just print and fill it in. Don't forget to put it on your fridge!
What about you, what is on your meal plan this week?
__________________________________________________
Sunday:
(Lunch) Ham and Cheese Quiche, Salad, cantaloupe
(Dinner)  Grill Out with Community Group
Monday:  Shrimp Scampi, garden salad and garlic bread
Tuesday:  Anything Pasta Salad, whole wheat rolls
Wednesday: Slow-Cooker Herbed Pork, Baked Sweet Potatoes w/ butter & brown sugar,  and steamed broccoli with wheat rolls
Thursday:  Cheesy Mac and Beef, salad , whole wheat rolls
*I thought this looked gross, but we tried it at Publix and my daughter LOVED it and she is picky. 🙂
Friday:  Grilled Chicken and zucchini, orzo salad, garlic bread
Saturday:  Cookout w/ Friends
~~~~~~~~~~
Lunches:
Turkey Sandwiches
Grilled Cheese Sandwiches, sliced apples
PB&J, sliced apples
Leftovers – pasta salad, pork quesadillas, grilled chicken salad
~~~~~~~~~~
Breakfast:
homemade yogurt and granola with bananas
strawberry banana smoothie, whole wheat toast w/ peanut butter
cereal, whole wheat toast w/ jelly
breakfast burrito (egg, cheese, & salsa)
egg sandwich w/ cheese, fruit
oatmeal, whole wheat toast, sliced apples
~~~~~~~~~~
Snacks:
homemade popcorn or mini-pouches
smoothies
apples w/ peanut butter
applesauce
go-gurts (organic clearance at Kroger!)
cheese slices on crackers
~~~~~~~~~~
What meals are you planning this week? Any tips on how to easily meal plan? Whether or not you posted your meal plan for the week, please take a moment to leave your meal plan here. Let's help each other out in sticking to our budgets!