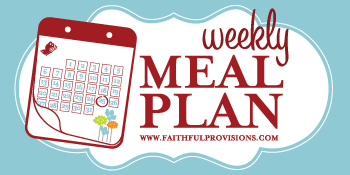 Have you noticed I haven't posted my meal plan the last two weeks? We were out of town on our planning retreat and then last week my husband was in Haiti. So, last week I didn't fool with making big meals since it was just me and the kids.
If you haven't heard, my area has severe flooding, in Middle Tennessee.  It is like nothing I have ever seen. There are boats in place of cars on the roads, many grocery stores are out of essentials and there are curfews. Seeing what is happening in our community has made me so thankful for having a stockpile of food and supplies we can donate to the shelters. It has been a blessing to be able to eat out of our pantry and freezer and not worry about that aspect of all this.
So, while I will post below my tentative plans for food, this week is up for grabs.
Welcome! For those of you who are new to Meal Planning checkout my resources:
My Meal Planning Tab – to help you out while you are getting started – lots of great resources.
Recipe Box – A comprehensive list of all my recipes!
FREE Meal Planning Template – Just click on the image above to download it. The best part is that you can even type in your meals and print it out! Or, just print and fill it in. Don't forget to put it on your fridge!
What about you, what is on your meal plan this week?
__________________________________________________
Meal Plan for the week of May 2nd :
Sunday:
(Lunch) leftovers
(Dinner)  Chicken Stroganoff, salad, wheat rolls
Monday:  Black Bean Enchiladas, salad, chips and salsa
Tuesday:  Pork Fried Rice, carrot salad
Wednesday:  Chicken Saltimbocca, twice baked potato, steamed broccoli
Thursday:  Black Bean, Avocado and Mango Tostada and Black Bean Salad
Friday:  Lentil Salad, Garden Salad and wheat rolls
Saturday:  Green and Kidney Bean Salad, wheat rolls
~~~~~~~~~~
Lunches:
Turkey Sandwiches
Grilled Cheese Sandwiches, sliced apples
Bread Pizza
PB&J, sliced apples
Leftovers – Black Bean Enchiladas, Lentil Salad, Chicken Saltimbocca
~~~~~~~~~~
Breakfast:
homemade yogurt, granola and fresh strawberries
strawberry smoothie, whole wheat toast w/ peanut butter
cereal, whole wheat toast w/ jelly
breakfast burrito (egg, cheese, & salsa)
egg sandwich w/ cheese, fruit
oatmeal, whole wheat toast, sliced apples
~~~~~~~~~~
Snacks:
pretzels with hummus
homemade popcorn
smoothies
apples w/ peanut butter
go-gurts
cheese slices on crackers
~~~~~~~~~~
What meals are you planning this week? Any tips on how to easily meal plan? Whether or not you posted your meal plan for the week, please take a moment to leave your meal plan here. Let's help each other out in sticking to our budgets!