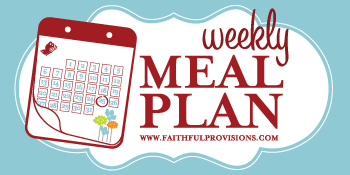 I should be having lots of great new recipes this week. I'll be posting things like Picnic Pasta, Rosemary Chocolate Chip Shortbread, and Chili Pot Roast…just to name a few!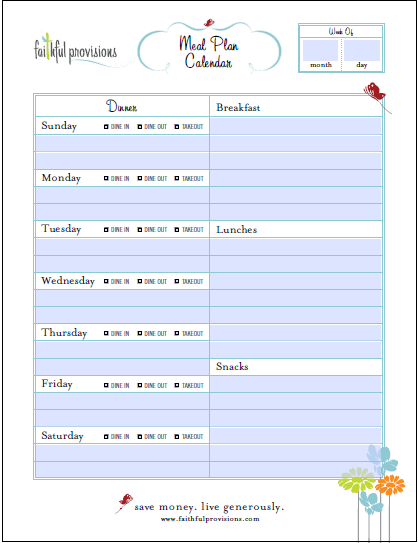 New to Menu Planning? Be sure to checkout my resources below:
My Meal Planning Tab – to help you out while you are getting started – lots of great resources.
Recipe Box – A comprehensive list of all my recipes!
FREE Meal Planning Template – Just click on the image to download it. The best part is that you can even type in your meals and print it out! Or, just print and fill it in. Don't forget to put it on your fridge!
What about you, what is on your meal plan this week?
__________________________________________________
Dinners:
Panko Salmon with Sauteed Tatsoi (Baby Asian Spinach)and Asian Dressing
White Beans, Turnip Greens and Chow-Chow
Picnic Pasta
Thai Eggplant Salad (last of our eggplant for the season)
Roasted Butternut Squash Casserole
Rosemary Roasted Vegetables
~~~~~~~~~~
Lunches:
Egg Salad Sandwiches
Morning Star Burgers
Grilled Cheese Sandwiches, sliced apples
Peanut Butter & Honey Sandwiches, sliced apples
Leftovers
~~~~~~~~~~
Breakfast:
Western omlette
Baked Oatmeal
Pumpkin Waffles
blueberry smoothie, whole wheat toast w/ peanut butter
cereal, whole wheat toast w/ jelly
breakfast burrito (egg, cheese, & salsa)
~~~~~~~~~~
Snacks:
boiled eggs
melon
homemade popcorn
smoothies
apples w/ peanut butter
applesauce
frozen grapes
cheese slices on crackers
~~~~~~~~~~
What meals are you planning this week? Any tips on how to easily meal plan? Whether or not you posted your meal plan for the week, please take a moment to leave your meal plan here. Let's help each other out in sticking to our budgets!