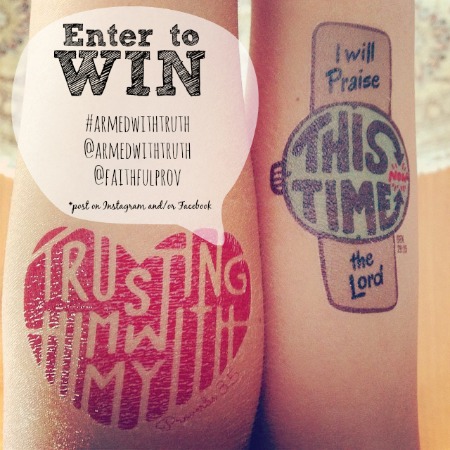 Scripture memorization has always been a challenge for me. I believe there is immeasurable value to having scripture memorized, but honestly, it can be challenging. That's why I was so excited to discover Armed With Truth! Now, I'm constantly reminded of His promises throughout my day with a simple glance on my arm.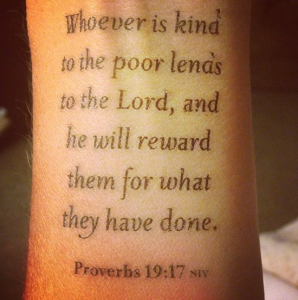 Here's a little bit about Armed With Truth:
We set out to make a way to get scripture into your memory bank by allowing you to take advantage of all the micro moments in life. If you don't have a lot of time (like us), spending 25-30 minutes to memorize scripture isn't something most people can maintain. We wanted to create a way people to take all their wasted micro moments in life (standing in line, at a stop light, in a drive through, in an elevator, riding a bike and even taking a shower) and make them opportunities to memorize scripture.

Armed With Truth was born to give you an ultra convenient way memorize scripture for a few seconds a day – everyday. The temporary tattoos are made for your inner wrists and will last for up to 7 days and are ready at all times for you to be encouraged and empowered. Each pack contains 10 verses centered around a transformational theme — from knowing your Identity in Christ to becoming a Change Maker. Over 100 verses in all to transform your mind and equip you with the Word of God.
Check out my Instagram page to see why our family loves these!
The amazing folks at Armed with Truth are sponsoring a giveaway to spread the word about this awesome product. One lucky winner will get a $15.00 shop credit to spend on the Armed With Truth website. Simply leave a comment and tell me what packet you would buy (you can see all the available options on their website). Or, get an extra entry by heading over to Faithful Provisions on Instagram! We will pick 1 winner for a $15 shop credit on Wednesday!