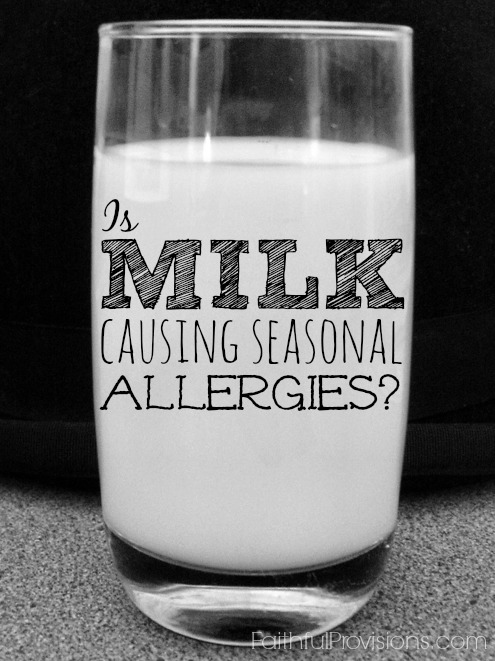 Guest Post by Calie at Broccoli Cupcake
It's that time of year, when allergy symptoms are going strong and many of us find ourselves taking a series of over-the-counter and prescriptions medications just to get through the day. While some of us may experience relief from these products, others might continue to struggle with sinus infections, sinus pressure, eczema, and more. The good news (or maybe it's the bad news) is that a simple diet change could bring significant relief.
A Common Food Allergen
Our family experienced this first hand when milk and dairy were removed from our diet for about three months (under our doctor's supervision).  Our experience was a positive one, and we've continued to limit our dairy intake to mainly goat cheese, some raw cheese, and milk alternatives.
More and more health practitioners are recognizing milk and dairy as possible causes (or contributing factors) to recurring allergy symptoms.  The official verdict, however, on the impact of dairy on our health and allergies is highly debated. It is likely something you have to experience and experiment with before deciding for yourself.  Here are a few thing to think about:
Milk is one of the most common food allergens in the American diet.
The Chief of Pediatrics at John Hopkins University believes that up to 50 percent of children may be allergic to milk but are undiagnosed.
Symptoms of milk allergies or sensitivities are very similar to seasonal allergies and can change over time making them difficult to diagnose.  Symptoms can include chronic ear infections, chronic upper respiratory infections, wheezing, runny nose, itchy watery eyes, eczema, and rash.
Test Yourself
Blood tests and skin tests aren't always accurate when it comes to food allergies. One of the easiest and most affordable ways to test for a food allergy or sensitivity is to simply try eliminating potential allergens from your diet. Try eliminating them for several weeks and pay attention to your symptoms. After several weeks (we went for one month) add them back in, one at a time, and see how you feel.
If you've found eliminating milk and dairy from your diet to be beneficial, please share your experience in the comments section. Considering taking milk and dairy out of your diet? Stay tuned! We'll be sharing more about milk alternatives and the facts about soy in future posts.
About Calie at Broccoli Cupcake:
Broccoli Cupcake is a place to find and share information about living a happy, healthy lifestyle. The contents are fueled by Calie's personal journey to improve her health and the health of her family. Calie is a work-from-home media relations consultant, mom to two unruly boys, and health and wellness junkie. Tune in every other Wednesday at 7:30 a.m. for Calie's healthy living tips on Fox 17 Tennessee Mornings.
Photo Credit: Flickr