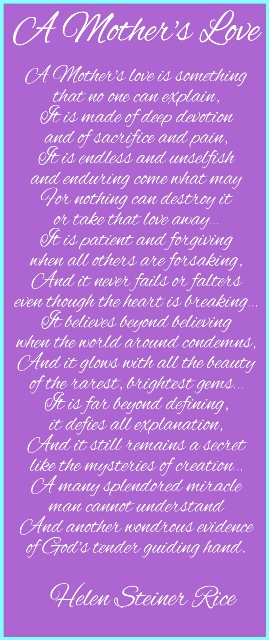 If you're looking for a classic Mother's Day poem for kids to give to Mom this year, this Mother's Day poem is perfect. Written by Helen Steiner Rice, a beloved Christian poet who wrote literally hundreds of poems over the course of her life, "A Mother's Love" is a favorite.  Be sure to check out all the great ideas on how to use it below!
A Mother's Love
by Helen Steiner Rice
A Mother's love is something
that no on can explain,
It is made of deep devotion
and of sacrifice and pain,
It is endless and unselfish
and enduring come what may
For nothing can destroy it
or take that love away . . .
It is patient and forgiving
when all others are forsaking,
And it never fails or falters
even though the heart is breaking . . .
It believes beyond believing
when the world around condemns,
And it glows with all the beauty
of the rarest, brightest gems . . .
It is far beyond defining,
it defies all explanation,
And it still remains a secret
like the mysteries of creation . . .
A many splendored miracle
man cannot understand
And another wondrous evidence
of God's tender guiding hand.
Ideas:
Print this out on pastel stock paper, in a beautiful, feminine font and frame.
Make Baby's handprints and footprints on a piece of cardstock in a light-colored ink, then print "A Mother's Love" over it and frame.
Print out poem, tie a pretty ribbon around it, and tuck into a gift basket for Mom.
Print out poem, fold and place into envelope, to add in with a gift card to her favorite restaurant.
Older kids can write their own Mother's Day poem. From kids to her heart, loving words will make Mom's day. See my tips for writing a Mother's Day poem from kids HERE.
Find more short Mother's Day poems HERE to use in cards and crafts.