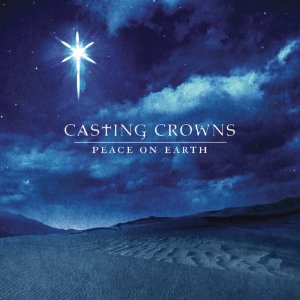 I love playing my favorite Christmas music this time of year, and I am loving hearing my little ones sing along. There are so many great songs to serve as the soundtrack for your own special Christmas celebration. The ones I have listed here are my personal favorites. I'm actually always coming up with new favorites, too.
Ring the Bells – This is my absolute favorite. This album is done by my church here in Franklin. Our congregation is filled with Christian recording artists, including Cheri Keagy, Erin O'Donnell, Geoff Moore, and more. And the best part? 100% of the proceeds go to African missions!
Peace on Earth – I love Casting Crowns, and this is a great Christmas album (pictured at top of post). It's got some of the beautiful Christmas classics (O Come All Ye Faithful, Away in a Manger) as well as some new Christmas songs. You'll love, "While You Were Sleeping."
All Time Christmas Favorites, Vol. 1 — This is the old stuff, the classic sounds I grew up with!
Here are some more of my favorites:
What's your favorite Christmas song or album? I'd love to add a few more great songs to my collection. I've finally joined all of you in the 21st century and figured out how to connect my stereo to my iPad and my iPhone. Oh how wonderful it is!