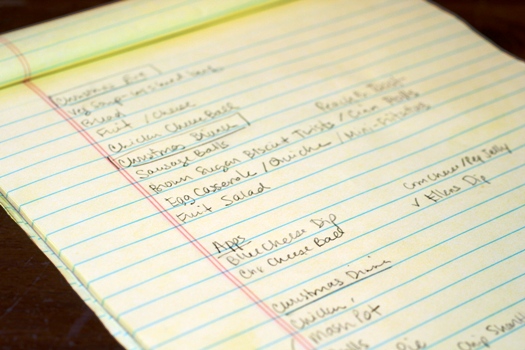 I wanted to share with you the Holiday Meal Planning schedule I put together this weekend and a little look into how I planned and what it all looks like.  (Don't miss my post on How to Save on Holiday Entertaining. It's a good place to start getting yourself organized.) There are still many great deals to be had and plenty of recipes you can pull together from your stock of deals!
Master Holiday Meal Plan
Make a List. The first thing I do is list on my Prep Day Planner all the dishes I would like to make for each meal. I jot down all our holiday favorites and anything else that I may want to make–even new recipes.  At this point it is just a "wish list" of items. Some may not stay. In fact, I put much more than I know I will be able to make so I have lots of choices, depending on what I have on hand and what I find in the sale ads to round out the meals and recipes.
*Note:  All items with an asterisk * can be made ahead and/or frozen.
Christmas Eve Dinner Meal Plan
We typically go to an early  Christmas Eve service, then everyone comes back to our house. We spend the rest of the evening visiting and eating dinner. I like to keep this meal really simple, a "shepherd's meal" of soup, bread, cheese, and fruit, along with some appetizers and desserts. I try to make enough for any last minute friends or family who happen to drop by.  Here is our meal:
Vegetable Beef Soup – I make a pot roast early in the week, and use the leftover shredded beef in place of the ground beef.  This goes in the slow cooker on Christmas Eve morning.
Bread*, Cheese, and Fruit Platter – This has my homemade wheat rolls*, blocks of cheese, and in season fruit like grapes and oranges.
Chicken Cheese Ball* – This is a very easy cheese ball I can make the day before. It's loaded with chicken, cream cheese, pecans, and other items–perfect for a snack and extra filler.
Desserts* – I will pull out any pies or cakes, but this is an area I also offer up to my guests who ask if they can bring something. These will last us through tomorrow too!
Christmas Brunch
On Christmas morning we have a variety of friends and family who come by, so we don't really have a set time for eating.  Most of my brunch items are made ahead of time, so that morning, all I am doing is reheating.  In addition, I try to make mostly finger foods that can be eaten at room temperature. I want to spend time by the tree with my family, not in the kitchen.  Our meal includes:
Cinnamon Rolls* or Peach French Toast* – Both can be made ahead and frozen
Mini-Fritattas or Ham and Cheese Quiche – Made the morning of and really easy to pull together

Fruit Salad with Orange Marshmallow Glaze* – A combination of grapes, bananas, apples, oranges and pecans, with a light orange-marshmallow glaze. This can be made the night before, and then I peel and slice the bananas to add right before serving.
Mid-Afternoon Appetizers
To bridge the gap between breakfast and an early Christmas dinner, I like to have appetizers sitting out for anyone to snack on. These are easy and, once again, guests usually bring a dish. (Yes, we like cheese…but I will probably not serve all these.)
Blue Cheese Dip with Pecans – Serve with fruit and vegetables
Baked Cheese Dip* – My mother-in-law is bringing this and it is SO good!
Marinated Cheese* With crackers
Christmas Dinner
In the past I have gone all out and been in the kitchen the entire day. It does not make for a relaxing or enjoyable Christmas Day for me.  So I have learned from my mistakes and our Christmas Dinner is easily prepared ahead and a cinch to pull together.
Roasted Sticky Chicken – I will cook 2 large birds. Any leftovers will be used in  my recipes that call for leftover chicken – you can see them here.
Cream Cheese Mashed Potatoes – I just use pre-made potatoes and then follow the recipe for the rest.
Homemade Wheat Rolls* – My version of Sister Schubert's.
Desserts
I will have a few different baking slots this week depending on my time availability and our schedule.
Please leave your recipes and holiday ideas in the linky below.  I would love to have a place for Holiday Recipe ideas.  Just link to any recipe (anywhere!) that is your favorite.
Find everything you need for your Holiday Meal Planning on Faithful Provisions.