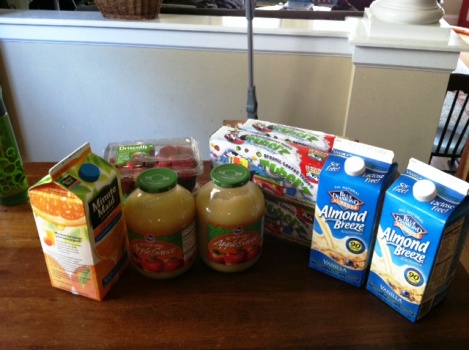 Yes, I am making the grocery circuit this week!  I got pretty motivated with the long weekend and made it to Kroger.  I seriously lucked out because the Horizon Organic Tuberz (organic version of Go-gurt) were on clearance for just $1.99 and they are regularly $3.99!  I got four boxes, so if they don't get gobbled up in the next week, I'll freeze the rest for a cold summer treat.
Checkout all of this week's Kroger Deals and Coupon Matchups for details on my trip.
Organic Strawberries — $2.50
Almond Breeze Milk — $1.50
Orange Juice — $2.99 (not a deal, just needed it for smoothies)
Applesauce — $1.79 (not ideal, but organic is like $6 for that size!)
Horizon Organic Yogurt Tuberz — manager's special for $1.99 (we got 4 packs)
How did you do this week?  Make it to Kroger?  Please share your trip savings below.