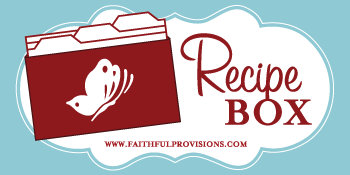 I have been busy adding new recipes and organizing all the current ones on the site into my new Recipe Box.  Be sure to check out the full list of recipes not only by category, but also by ingredient.  This is the area I need to put more work into, which I will do this week.  So, if you find recipes that I have that are easier to find in other categories or need to be added to an "ingredient", please let me know.
This list of recipes is for you and  most are based on items I have found on sale.  The "By Ingredient" listing is to help you match up sale items with recipes to use them in. It is still in it's baby stages, so I would love your help!
Has the Recipe Box been helpful for you in your nightly meal preparation? Be sure to check back each day from 2-3pm to see "What's For Dinner".  There are usually lots of great meal ideas there too!