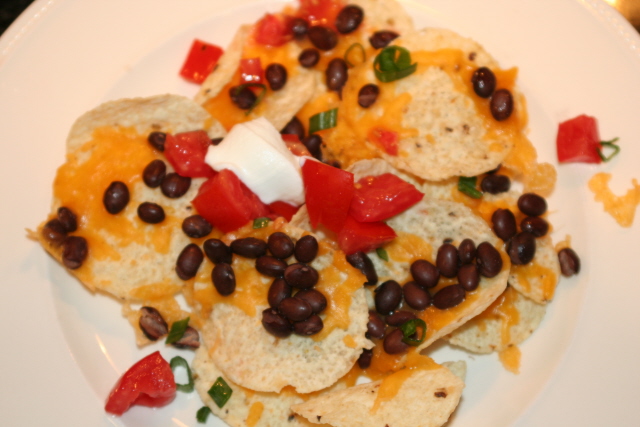 Okay, so the other night I didn't get dinner together on time, and my husband and I weren't in the mood for a big cook and clean up.  So we went for our old standby.  I don't think about how much I enjoy nachos until we have them and I am reminded LOL. They tasted so amazing–especially since we smothered them in juicy chunks of homegrown tomatoes!
TIP:  There is one big tip when doing nachos – Don't overcook them!
Black Bean Nachos
Ingredients
Tortilla chips
Cheese (Cheddar or Monterey Jack)
1 can black beans (rinsed)
Your favorite toppings: diced tomatoes, taco seasoned meat, chopped green onion, sour cream, cheeses and hot Sauce.
Instructions
Preheat oven to 350 degrees.
Place tortilla chips on a nonstick pan.
Lay them out in a single layer, then cover with shredded cheese (cheddar or Monterey Jack are great) and rinsed black beans.
Bake in preheated oven for only about 3-5 minutes. (My oven cooks hot, so mine were in about 4 minutes) You only want them in there long enough to melt the cheese. The chips crisp up VERY quickly.
TIP: If you have stale tortilla chips or taco shells, stick them in the oven for a couple of minutes and they will be crisp again!
Garnish with your favorite toppings.
Recipe developed by Kelly Hancock ©2010 Faithful Provisions. For personal use only. May not be reproduced, reprinted or distributed for capital gain without prior permission from Kelly Hancock.