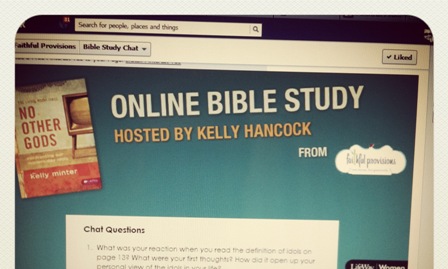 What a week this one was! I was really prompted to think about so many things from a completely different perspective. I think everyone was feeling that way. Here are the questions and notes from this week's chat.
Question 1: Q1: What "desires" (defined as "to set the heart upon") battle within you? Are they always evil or just normal desires that overtake? Did the author's definition change what yours are? (James 4:1)
Clarice: The desires that battle within me are not always evil; I think they are normal desires that overtake me. Really need to make God "my ultimate thing."
Abby: I find that I battle the desire for control in my life… I am constantly trying to "plan" and I have to let go!
Question 2: Q2: What did you think about the "affectionate warning" to not be adulterous-minded, because we are married to Christ? (James 4:3-5) Had you ever thought of your relationship with Christ in that way? How does it make you think differently about your actions?
Clarice Wagner: I haven't thought of my relationship with Christ as a marriage. I struggle with that (I have a narrow view of marriage I guess).
Abby: These verses really caught my attention this week and changed my perspective. It made me realize how we have to step back and really examine our motives!
Betsy: For me, adultery is an obvious sin, no ifs ands or buts, but with idol worship that's more difficult to pin down. And, so, to me, it was pointing out that even if it's a grey area, it's still wrong. For example, you can't be somewhat pregnant. you are or you are not.
Phyllis: @Clarice – Being the bride of Christ has always felt a little strange but it is suppose to be the picture of what God intended for marriage. Again we get it out of whack. The union is suppose to be Godly and pure so it should be adulterous to put anything before or even close to our relationship to Christ.
Question 3: Q3: What was your reaction to Rachel's stealing the idol? Could you relate? She had all the beauty and love, but she still wasn't satisfied. How are we like her?
Glenda: satan is clever that way..deceptive
Phyllis: Q3-I hate that I can relate to that at all. It's like giving something to God and taking it back but worse.
Abby: I always think of that "more more more" attitude as part of our current culture, whereas it is really part of our sinful nature.
Clarice: I wondered why Rachel stole the idol. But I've done the same thing, countless times. Have it all, loving husband, blessed with healthy, happy children, a job, roof over my head, comfort, and yet I seem to seek more.
Question 4: What was God's message to you personally when reading Colossians 3:1-17? Which translation was your favorite and why? (p. 95)
KellyH: I am to be compassionate, forgiving, understanding. These things do not come easily to me. And it hit me in the gut.
Phyllis: I tell myself to "Respond in love" alot. Sometimes that is harder than other times.
Glenda: I have to be honest. I didn't complete this week's study, but glancing over it I think that He reminds us that we have Christ in our hearts. We are NOT defeated & we need to act like we have Christ in our hearts (easier said than done)
Clarice: Set my heart and mind on things in heaven, not on things here on earth…your real life is Christ…the peace that Christ gives is to guide us in the decisions we make; the Good News Bible was my favorite translation.
No Other Gods Week 4: Overview
This week the study focused on "The Problem with Idols." If you missed my overview and what God revealed to me be sure to head over HERE to see what I learned from the study this week!
There's still time to get in on our study. You can get all the details HERE.
:: A big thanks to everyone for switching up nights with me. Please join me tomorrow night for the dotMOM Twitter party. The details are HERE.