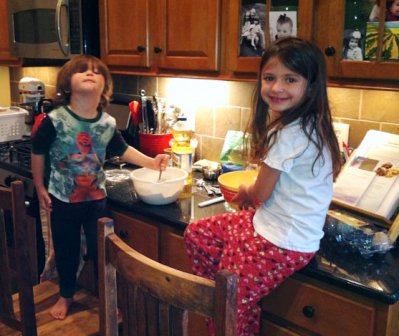 I wanted to share with you a few Easter Ideas for special Easter Traditions that we have started to do. Special crafts, books, and recipes that we can enjoy together help our children understand the story of Easter. They will only be little for a very short while, so I want to make sure we are doing things now to help them understand the importance of this holy holiday, and the assurance that it gives us!
Empty Tomb Cookies – We did these for the first time last year.  My daughter still asks me questions about the different things she learned.  Every time she sees a bottle of vinegar she reminds me that she tasted it when she was learning about how Jesus died on the cross.  If you missed it, I wrote a very long post on Empty Tomb Cookies and how to use them with step by step instructions and pictures.  I hope you enjoy it!
Download a printable version of the Empty Tomb Cookies Recipe here. *Note:  These have nuts, so substitute with chocolate chips if you have nut allergies.
Resurrection Rolls – Although we haven't done ours yet, we will do them tomorrow. These are another great way to explain the death and resurrection of the Lord Jesus Christ. This recipe uses different items, and it is nut-free. It's a little bit shorter to do with your children, so it's especially good for your very little ones. (A big thanks to Monica for sending me this recipe.)
Download a printable version of Resurrection Roll recipe here.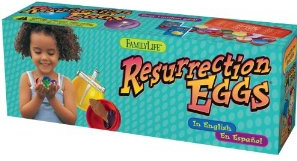 Resurrection Eggs – My daughter plays with these all year round. Each egg comes filled with an object that tells a piece of the story of Christ's Crucifixion and Resurrection.
Learn how to make your own Resurrection Easter Eggs HERE, with items you already have on hand.
There are two books you can get to help you tell the story, depending on the age of your child.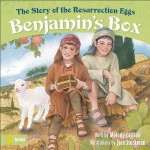 Benjamin's Box: The story of Benjamin who follows Jesus during biblical times to find out who He is. For ages 4 and up.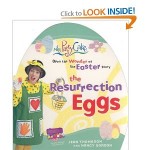 The Resurrection Eggs Glitter Board Book by Mrs Patty Cake. This is a picture book for preschoolers.
Messianic Passover Seder Dinner – If you have never had the opportunity to attend a Seder dinner, I highly recommend you seek one out in a local church.  We went last week with some friends for the first time.  My husband and I agreed this would be a new family tradition for us. It was absolutely amazing to see the Biblical Revelation of Christ in the Passover meal. It unifies the Scriptures and reveals the historical meaning of the Lord's Supper.  Be sure to check out Turning Heart Ministries to read more about the Messianic Passover Seder Dinner.
What traditions do you hold dear in your home? I would love to learn more about how others celebrate the Lord's Death and Resurrection.
Find more Easter Ideas on Faithful Provisions.