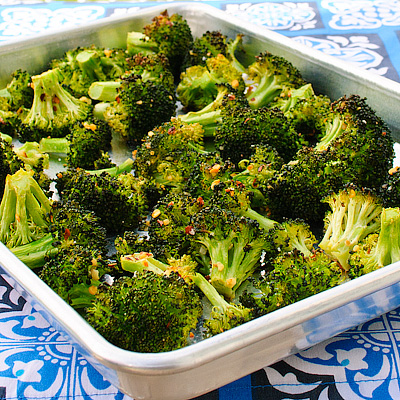 This is one of my favorite ways to prepare broccoli. I love it steamed with a little lemon-butter sauce, but oven-roasting broccoli gives it a really nutty, caramelized, and buttery taste that is very different and unusually flavorsome. WARNING: If you have never had oven-roasted broccoli, you may never go back!
*Scroll down to use print recipe feature and add to your Recipe Box.
Once you pull the broccoli out of the oven, you can enjoy it as a side with any chicken or pork dish. It goes great with salmon too.  When you incorporate oven-roasted broccoli as a pizza topping or toss it into a pasta dish, you'll add more flavor, color, and nutrients for your family.
You can flavor the broccoli to your liking, but some ideas are:
lemon pepper seasoning
soy sauce
minced garlic
red pepper flakes
Parmesan
Oven Roasted Broccoli
Ingredients
1 head of broccoli, stems sliced length-wise
Olive oil
Sea salt
Fresh ground pepper
Instructions
Preheat oven to 425 degrees.
Place broccoli on cookie sheet.
Drizzle with olive oil.
Sprinkle with salt and pepper.
Toss to coat evenly.
Cook for 15-20 minutes or until browned.
Photo Credit: RealMomKitchen.com

Recipe developed by Kelly Hancock ©2010 Faithful Provisions. For personal use only. May not be reproduced, reprinted or distributed for capital gain without prior permission from Kelly Hancock.