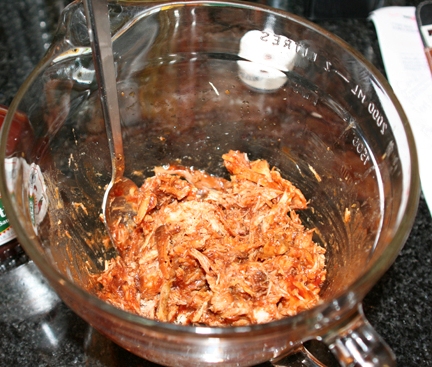 I do love anything with a Mexican flair, and these pork quesadillas are a perfect fit for leftover pork. At my house, this recipe would have originated in one of three ways:
*Scroll down to use print recipe feature and add to your Recipe Box.
Of course, I am always watching for pork to go on sale. One of the secrets to spending less at the grocery store is simply shopping sales. If pork is not on sale, then I am not going to buy it. Instead, I will buy whatever is on sale that week.
Want to know what a good price is for pork–and anything else? Check out my FREE Provisions Price List HERE, which is also available as a FREE iPhone App HERE.
Pork Quesadillas
Ingredients
Pulled pork, leftover
Chutney, apricot preserves (any kind of sweet apricot, mango spread)
Shredded monterey jack cheese
Tortillas
Instructions
Spread chutney/preserves on tortilla.
Place in non-stick pan, sprayed w/ cooking spray.
Top with pork and cheese.
Top w/ 2nd tortilla.
Cook until cheese melts and pork is warm, then flip and cook other side.
More great options for your leftover pork:
Recipe developed by Kelly Hancock ©2010 Faithful Provisions. For personal use only. May not be reproduced, reprinted or distributed for capital gain without prior permission from Kelly Hancock.