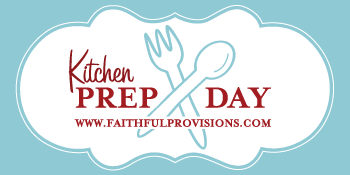 I am hoping to get started in the kitchen this afternoon around 1pm.  Are you going to join me? I will be leaving Twitter updates under hashtag #kitchenprepday and posting Facebook updates as I go along. I will be posting my recipes here throughout the day today.  Recipes for items I only prepare ingredients for will come on the day I cook them.
I have about 4 items I want to make this afternoon, so check out yesterday's "Master Plan" post to see what recipes I finished last week along with what I plan to cook this afternoon.
Below is my "To-Do"  list from last week, and my one for this afternoon.  I thought it would be helpful for you to see how I strategize my time in the kitchen to get the most done in the least amount of time!
Last weeks plan:
Brown ground beef while water boils for noodles.
Drain ground beef and cook second batch while noodles cook.
While last batch of ground beef drains and second batch of noodles cook (did bowtie  for Smoked Chicken Pasta and Stroganoff, and spaghetti for crockpot red sauce and tetrazzini using same pot of water), pull all meat off turkey and chicken carcasses.
While ground beef and noodles are cooling (in baggies), make pizza dough. You can either freeze the pizza dough as a ball, or roll it out and freeze it.  I think it is easier to make room in the freezer in a ball.  You just unthaw when you want to use it and roll out.
Make Turkey Tetrazzini sauce, I will use the spaghetti noodles I already cooked to pour sauce over.  Then put in foil pans and freeze for later.
This afternoon's plan:
Pull together all ingredients on the counter.
Mix quiche ingredients, while pie shell is getting to room temp. It won't unroll, and will break apart if not at room temp.
Cook quiche while mixing muffin batter up.
While quiche cools (one to freeze), cook muffins, begin cooking scrambled eggs on stove-top for Breakfast Burritos.
Assemble burritos while second batch of muffins is in oven.
While third batch of muffins is cooking, mix up Hot Chocolate Mix (as gifts).
Take a picture for you and put burritos, quiche and muffins in the freezer.
So what are you tackling in the kitchen today? Leave your plans, to-do's or any great recipes.  Are you stumped and need a little creative genius?  Post your questions here and see what other readers come up with!