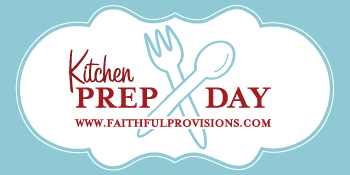 One of my goals for this year is to provide you with even more tips on meal planning and using what you already have on hand.  I want to arm you with tools to be creative and keep you out of the grocery store. This will be the first in a new series of monthly posts that will share with you what I am doing to use what I have on hand.  Or to make use of the items I got on sale.
I will start by sharing with you what I planned to do, the day before the Provisions Prep Day. I will do this each month. Now, in full disclosure, I had part of my prep day last week because some of these ingredients wouldn't have lasted this long.  So, I turned it into 2 separate prep days. But I am going to layout last weeks plan for you here and then unveil a new smaller plan tomorrow!
So, in preparing for this weeks meal plan I first started by making a list. Imagine that, me and lists! (laughing as I type!)
List of Ingredients
First I did was take a quick inventory (make a list) of what was perishable in my fridge.  I picked out produce and meats that needed to be used up soon. Here is the list of what I had to work with:
Leftover turkey meat from Christmas (remember I did that last week, it was still good!)
Whole Smoked Chicken
3 packages of sliced mushrooms (used raincheck at Publix)
2 dozen eggs (Free at Publix with Sargento Cheese purchases)
Sliced ham
Bag of fresh Spinach
3-lb ground beef roll
Recipe List
Next I thought through what I could make with what I had on hand.  What were our favorites? Did I have most of the ingredients to make it without a grocery trip? Here is what I came up with and why.  I will be sharing these detailed recipes with you through the week.  But this will get you started.
Chicken/Turkey Tetrazzini – I decided to make it as Turkey Tetrazzini. My mom made it all the time growing up and it is great to freeze.  I know I will be needing a few freezer meals for new babies this month! I needed to use the turkey and mushrooms, and I had noodles, cream of mushroom soup and the velveeta on hand. The recipe will be coming tomorrow!
Homemade Spaghetti Sauce – The main ingredient I usually need for this is the fresh mushrooms, but I decided to thaw the 3-lb ground beef. The recipe only calls for 1 lb so I used the other two in plans below.  This freezes well, and I can make my Spinach Cream Cheese Lasagna from it too.
Crockpot Chicken Stroganoff – This used my last package of fresh mushrooms. I precooked the spaghetti noodles and extra bowtie pasta for the stroganoff and the Smoked Chicken Pasta.
Smoked Chicken and Spinach Pasta – I totally made this one up! I do this a lot with pasta.  I have a lemon butter sauce I like and depending on what meats and vegetables I have on hand that is what it becomes. So, I used most of the spinach, the smoked chicken and the precooked pasta.  (I undercook pasta that I precook so it doesn't get mushy.)
Ham & Cheese Quiche – I need to use the eggs and ham.  I have tons of cheese on hand, and a few pastry crusts in the freezer from triples in November.
Hawaiian Pizza – We love this and it was a great way to use of the fresh ham!
Tacos – I precooked the ground beef and froze it for tacos for a later Meal Plan edition!
Chili – Again, I precooked the ground beef and froze it to use for chili this weekend when we have our community group over. Great meal for a big group.  I will also use some of the precooked noodles, to pour chili over. Stretches chili out for a big group.
Most of the prep work for the meals above was done last week, so tomorrow I am going to focus on the following recipes.  Tomorrow I will also layout how I got everything accomplished while in the kitchen.
Tomorrow's Plan
Hot Chocolate Mix (more for Christmas presents, Ainsley got the flu and didn't get to school!)
Breakfast Burrito's (to freeze)
Ham & Cheese Quiche
Are you going to join me tomorrow?  What are your plans?  Need any inspiration? Leave a comment and feel free to answer others questions.  Let's help each other out in the kitchen!