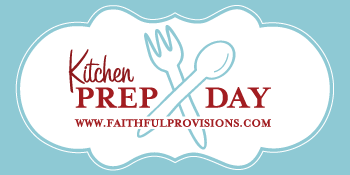 (Grab my button above for your Prep Day post!)
It is about that time again! So, mark your calendars for Wednesday, June 2nd in the morning from 10-noon CST.  I am so excited for my Provisions Prep Day this month, because I will have a little extra help.  My new mother's helper will be here to take the kiddos while I get the morning to cook and get my food prepped!  Yippie!
Okay, while I don't have my entire plan laid out, here are some of my ideas.  I will update it if it changes drastically. For those of you who are new, I don't typically use my Prep Days as a way to cook dinners, I use mine to prep food for dinners and to make snacks, lunches and breakfast items ahead of time. I like to do homemade breads and mixes so that is what I use my time here for!
This month I might be trying a few recipes out of my new book Quick Fix, Healthy Mix.  This is a book with lots of mixes you can premake, it is an alternative to most of the pre-made mixes you buy at the grocery.  We are trying to remove refined sugars, preservatives and additives and this is the best way I see to do it.
My Master Plan:
Breadmachine Wheat Rolls (3 batches)
Pumpkin Chocolate Chip Muffins
Taco Salad Dressing (to keep in fridge for lunch salads)
Greek Dressing or All Purpose Greek Marinade (to use for grilling as a marinade)
Granola Bars – new recipe I"ll share later!
So, what are your Prep Day plans? Are you going to join me?  Have you done a Prep Day before?  Share you tips, questions and experiences in a comment.