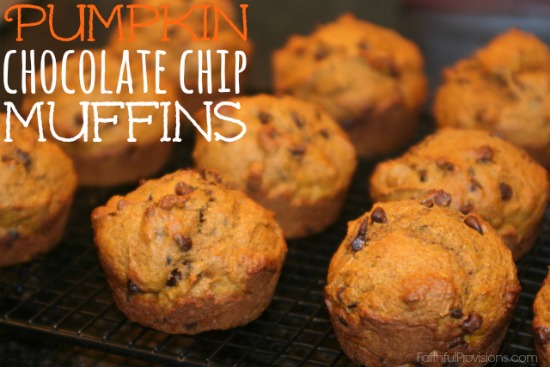 Pumpkin Chocolate Chip Muffins
If you are looking for a great snack for the kids, this is it. I absolutely love these, and so does my family. The best part is that they are relatively healthy, having applesauce, whole wheat flour and pumpkin. I like to make a double batch of these to freeze.  You can just put them into the microwave for 20 seconds and they are ready to eat.
Pumpkin Chocolate Chip Muffins
Ingredients
4 eggs
1 (16 oz) can pumpkin
¼ cup oil
1 cup applesauce
1 teaspoon vanilla extract
1 cup sugar
2 cups whole wheat flour
1 cup white flour
2 teaspoon baking soda
2 teaspoon baking powder
2 teaspoon cinnamon
1 teaspoon salt
1.2 cup semi-sweet chocolate chip morsels (I love mini's)
Instructions
Preheat oven to 400 degrees.
Mix all wet ingredients in large mixing bowl, then combine all dry ingredients in another bowl.
Add dry ingredients into wet ingredients.
Fold fold in chocolate chips.
Cook for 14-17 minutes or until a toothpick comes out clean.
TIP: I stick a wooden toothpick into the center of the largest muffin, if it comes out clean it is done. If lots of batter comes out with it, stick it back in the oven for 2 minutes at a time until it does come out clean.
Like Muffins? Be sure to try the following easy and healthy muffins recipes:
Recipe developed by Kelly Hancock ©2010 Faithful Provisions. For personal use only. May not be reproduced, reprinted or distributed for capital gain without prior permission from Kelly Hancock.