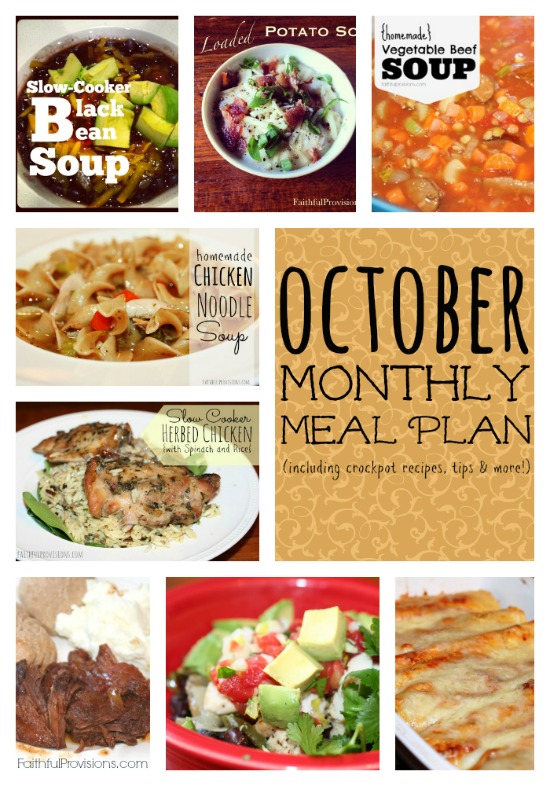 It's October! That means my meal plans are starting to include lots of warm, feel-good crock-pot meals. Life is so busy in this season of life we are in, so I'm specifically looking for healthy and EASY make-ahead meals. For me, that means lots of soup recipes! I absolutely love soup because it's easy, healthy and usually pretty light on the budget. I'm only listing 15 ideas for this month since we eat out throughout each month and several meals can be turned into leftovers or created into a whole new meal.
I would absolutely love to hear any ideas or favorites you have! I am always looking for new items to add to my menu list.
Happy Fall, Y'all!!
Kelly's October Meal Plan
Black Bean Soup – This is a super easy slow cooker recipe that even my kids can make! I usually have plenty left over to turn it into a Black Bean Quinoa bowl later in the week.  I just use this easy Fajitas in a Bowl recipe and sub rice for quinoa and I keep cost down by just using whatever beans/meat I have on hand.
Herbed Chicken Thighs over Rice and Spinach – To help my budget, this meal is best with chicken thighs – they are so much easier on my wallet! Also, the leftovers are another great use for the Fajitas or Quinoa Bowls!
Fajitas in a Bowl – This is what I make when I have lots of leftovers! We always have avocado, cheese, tortillas/chips and lots of Cholula sauce on hand.  I just make this after I've made either a crock-pot chicken dish or black bean soup.
Italian Wedding Soup – I have to say this might just be one of my absolute favorites! I usually double the meatballs and freeze them to make spaghetti and meatballs later in the month.
Spaghetti and Meatballs – I don't really have a recipe for this, so I just take the extra meatballs from the Italian Wedding Soup prep and brown them in a pan.  Then I pour a large jar of my favorite spaghetti sauce and a cup of red wine over the top and let it simmer in my heavy cast iron skillet for about 30 minutes. Serve over spaghetti noodles with crusty french bread and a crisp green salad.
Texas Chili – I have been told by a few Texans that this isn't technically a "Texan" chili because of the beans, but it reminds me of something yummy I would get in Texas since it is so good and hearty! It's great for a crowd because it makes such a large batch. I always have enough to have a big fall chili potluck at my house and then I freeze any leftovers. We love to use the leftovers for making chili dogs by the fire!  You could also turn it into a Cincinnati version by serving it over spaghetti noodles and topping with "the works".
Vegetable Beef Soup – This might just be my favorite "go-to" meal. I always make sure to keep a few bags of frozen veggies on hand so I can whip this up last-minute. This soup is also an easy crowd-pleaser, especially when served with french bread. This soup is our Christmas Eve meal too!
Chili Pot Roast – This is your classic pot roast, but with a sweet and spicy twist! I like to pair mine with mashed potatoes and a green vegetable.  I typically use any leftovers to make Beef enchiladas another night.  It's a great "Cook Once, Eat Twice" meal!
Beef Enchiladas – This is a perfect way to use up leftover shredded beef, like pot roast. I now make my own enchilada sauce and rice instead of using store bought. So some things have changed, but not my love of Mexican food!
Loaded Potato Soup – This might be the one meal that EVERYONE in my family loves and devours. You could do without the toppings, but I firmly believe the bacon and cheese make this one aah-mazing!
Sticky Chicken – There are two ways I make this:  If I'm feeling lazy, I'll do it in the crockpot.  However, I think it tastes best when it's been slow roasted in the oven.  Trust me, it is totally worth the extra 5 minutes of effort.  I promise.
BBQ Chicken Nachos – This use to be a late-night feast for me and the hubs before kids.  Now, this has turned into a family affair, usually in the den watching a family movie.
Chicken Noodle Soup – This is perfect for the day after making a crockpot sticky chicken.  Especially after I've been simmering chicken broth all day!
Vitamix Tortilla Soup – I modify this recipe a little by adding some leftover chicken to make it just a big heartier.  It's still yummy without it.
Gourmet Burger Sliders – This kicks the typical burger up a notch by adding caramelized onions and my favorite bread.
What's on your October meal plan?