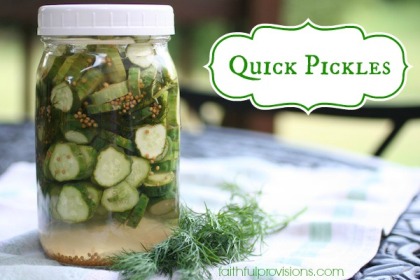 One of my favorite things to eat are pickles. I love anything with lots of spice and vinegar. But I am not a big fan of canning. I can tomatoes and salsa, but anything else I try to find another way. So, I was pretty pumped to have these quick pickles turn out so well.
The best part is that you can make a batch of the brine, and keep using it over and over, just cut more cucumbers and give them a few hours to grab the flavors.
Quick Pickles
Ingredients
2 cups white vinegar
½ cup water
¼ cup sugar
1 tablespoon mustard seeds
1 tablespoon salt
2 garlic cloves
1 bay leaf
Cucumbers - sliced about ¼ inch each
1 fresh dill stem
Instructions
Add the vinegar, water, sugar, mustard seeds, salt, garlic and bay leaf to a small saucepan and bring to a simmer.
Once the sugar has dissolved remove from heat.
Place cucumbers and dill to a heat-proof glass jar (canning jars work well) and pour over the pickling liquid.
Let sit for 15 minutes, or refrigerate to cool.
Find more recipes in my Recipe Box.