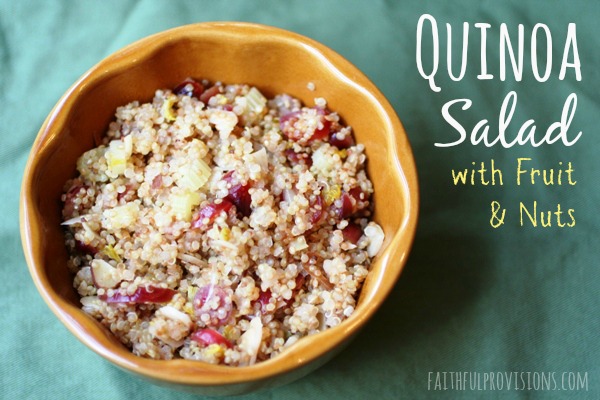 Quinoa is one of my new favorite ingredients to work with because it is high in protein, gluten-free (helps with my carb intake) and very filling, and full of fiber. I love to make a large batch and keep it in the refrigerator to snack on throughout the week. The longer it sits, the better it tastes.
*Scroll down to use print recipe feature and add to your Recipe Box.
The quinoa has a very mild taste, so the ingredients you mix it with can drastically change it's flavor, making it your own. I can find a large bag of organic quinoa at my local Costco for under $9 and it lasts me quite a while.
In order to give this cold quinoa salad a nice depth of flavor (that just means to make it taste really good), I think the key is cooking the quinoa in chicken broth instead of water. If you do not have chicken broth on hand, or you are looking to reduce costs, you can use the water instead. You will just need to add a little extra salt at the end to flavor the quinoa.
I have included sesame seed oil as an ingredient here, but it can be a little pricey. For me it is a kitchen staple I invest in, because a little goes a long way and adds a punch of flavor to any dish. All you needs is about a tablespoon in most dishes to add a nutty finish. If you don't have this and want to keep the dish cost down, just omit it. It will still taste great.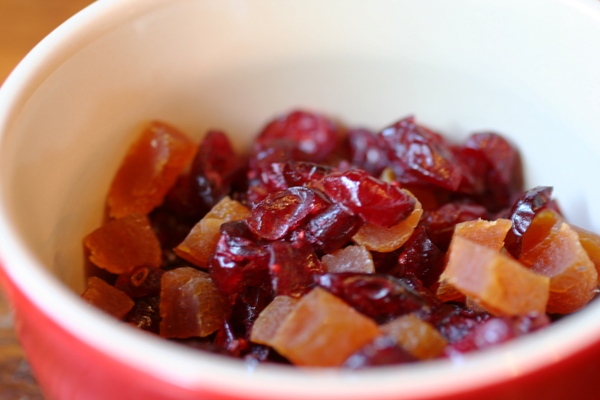 Of all the ingredients in this dish, I think the dried fruit really makes it pop. Each time you take a bite, the sweet and chewy apricots and craisins make the quinoa really pop with flavor. The nuts are a close second, just be sure not to burn the nuts if you toast them before adding to your salad.
Quinoa Salad with Dried Fruit and Nuts
Ingredients
1 cup quinoa
¼ teaspoon salt
2½ cups chicken stock (substitute: water)
3 green onions, chopped
½ cup craisins and/or dried apricots
1 pinch cayenne pepper
1 tablespoon vegetable oil
1 tablespoon rice wine vinegar (substitute: apple cider vinegar)
2 tablespoons lemon juice
2 tablespoons sesame oil (optional)
⅓ cup chopped fresh cilantro
¾ cup chopped pecans or walnuts (toasted)
Instructions
Bring the quinoa, salt, and water to a boil in a saucepan. Reduce heat to medium-low, cover, and simmer until the quinoa is tender, 20 to 25 minutes.
Once done, transfer into a large serving bowl, and let it cool for 20 minutes.
Once cool, stir in the green onions, craisins, apricots, cayenne pepper, vegetable oil, vinegar, lemon juice, and sesame oil.
Let sit at room temperature for 1 hour to allow the flavors to blend.
Just before serving, stir in the cilantro and pecans.
Recipe developed by Kelly Hancock ©2010 Faithful Provisions. For personal use only. May not be reproduced, reprinted or distributed for capital gain without prior permission from Kelly Hancock.