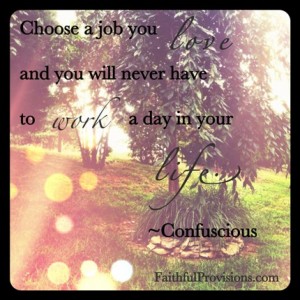 Quotes about the definition of Labor Day are quotes about work and quotes about the end of summer and going back to school. I'm a reader and I'm a worker, so reading quotes about what other people think about work is something I enjoy! I love it when I see a thought someone else has expressed so beautifully that I can relate to, or just an inspiring phrase that gives me something new to think about. I hope you enjoy this collection of Labor Day quotes.
Labor Day Quotes about Work
These Labor Day quotes about work are great conversation starters with your kids.
"Choose a job you love, and you will never have to work a day in your life." ~Confucius
"I like work: it fascinates me. I can sit and look at it for hours." ~Jerome K. Jerome
"Without ambition one starts nothing. Without work one finishes nothing. The prize will not be sent to you. You have to win it." ~Ralph Waldo Emerson
"Don't mistake activity with achievement." ~John Wooden
"If any man tells you he loves America, yet hates labor, he is a liar. If any man tells you he trusts America, yet fears labor, he is a fool." ~Abraham Lincoln
"Work–get paid; don't work–don't get paid. Everybody is on commission…" ~Dave Ramsey
All labor that uplifts humanity has dignity and importance and should be undertaken with painstaking excellence. ~Martin Luther King Jr.
Labor Day Quotes about the End of Summer
These Labor Day quotes about the end of summer express my thoughts beautifully.  My kids and I will really miss summer, but we are so excited to get back to their school routine and see what the new school year has for us!
"There are three good reasons to be a teacher — June, July, and August." ~Author Unknown
"Summer should get a speeding ticket." ~Author Unknown
"What we want is to see the child in pursuit of knowledge, and not knowledge in pursuit of the child." ~George Bernard Shaw
"Ah, summer, what power you have to make us suffer and like it." ~Russel Baker
"When summer gathers up her robes of glory, and, like a dream, glides away." ~Sarah Helen Whitman
"Education's purpose is to replace an empty mind with an open one." ~ Malcolm S. Forbes
:: You can learn more about the true meaning of Labor Day HERE.