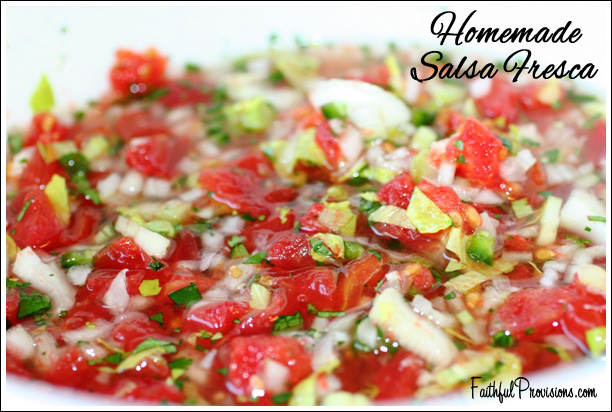 What makes this salsa are three secret ingredients: celery, honey and red wine vinegar. The thing I love the most about this salsa is that it uses a lot of inexpensive ingredients, many of which I already have on hand. The ideal time to make this salsa is when tomatoes are at their peak — which is the end of the summer.  However, I have found that a can of diced tomatoes does very well as a substitute for a wonderful year-round option.
Recipe for Homemade Salsa Fresca
Ingredients
2 cups fresh diced tomatoes, with juices (or 1 can diced tomatoes with juice)
½ yellow onion, finely diced
2 ribs celery, thinly sliced (use leaves)
1 jalapeno pepper, finely diced (or 3 tablespoons pickled)
3 garlic cloves, minced
3 tablespoons cilantro, finely chopped
1 tablespoon honey
1 teaspoon salt
4 tablespoons red wine vinegar
1 lime, freshly squeezed (or 3 tablespoons juice)
Instructions
Combine all ingredients and let sit a few hours before serving.
Alternatively, place salsa in a plastic container and freeze up to 6 months. Thaw in sink of cold water for 1-2 hours.
Once making this you will find there is an abundance of "juice" from the tomatoes after you have gobbled down the salsa. I love to save it and use it as a base to make another batch. It adds to the salsa's depth of flavor, which only gets better the longer the ingredients all sit together. Or even better use the leftover juice as a meat marinade for a flank steak.
Oh yeah, another huge plus to this salsa recipe is that it freezes incredibly well.  So instead of running to the store and having to pay close to $4 for a container of fresh salsa, you can make a bunch ahead of time and freeze it for later.
Recipe developed by Kelly Hancock ©2010 Faithful Provisions. For personal use only. May not be reproduced, reprinted or distributed for capital gain without prior permission from Kelly Hancock.