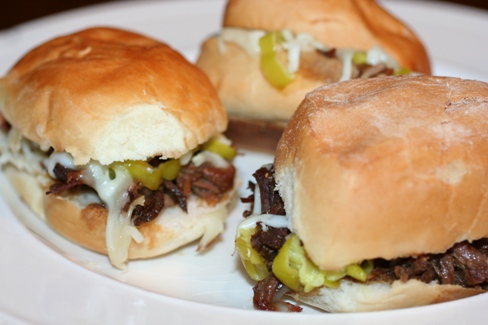 It is no surprise that I have a taste for things zingy. That is where this sandwich was born, from my desire to spice up the traditional Roast Beef Sandwich a bit! Sometimes I even take it up one notch further with a little hot sauce. This is one of my staple meals to make out of the leftovers from my Classic Pot Roast. But any type of leftover beef would substitute nicely.
*Scroll down to use print recipe feature and add to your Recipe Box.
A crispy baguette is the absolute best choice for a bread, but I use whatever I have in my freezer at the time.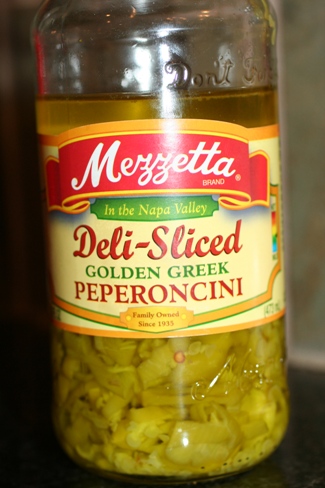 Oh, and be very generous with the peperoncinis!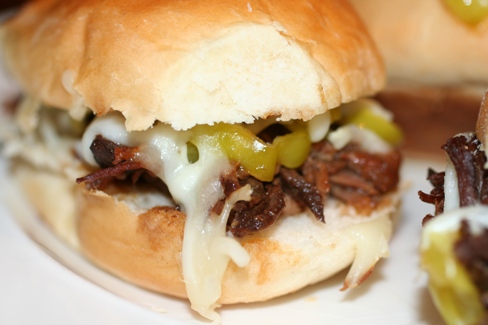 Roast Beef Sandwich with Peperoncinis
Ingredients
2 cups shredded beef
4 slices mozzarella cheese
¼ cup peperoncinis
1 baguette
Instructions
Preheat oven to 350 degrees.
Slice baguette lengthwise, and into four equal sandwich parts.
Lay out onto baking sheet.
Top bottom slice of sandwiches with ½ a cup of beef, one slice of cheese and a tablespoon of peperoncinis.
Place into oven for 7-9 minutes or until cheese is melted and sandwich is heated through.
You might also like:
Recipe developed by Kelly Hancock ©2010 Faithful Provisions. For personal use only. May not be reproduced, reprinted or distributed for capital gain without prior permission from Kelly Hancock.