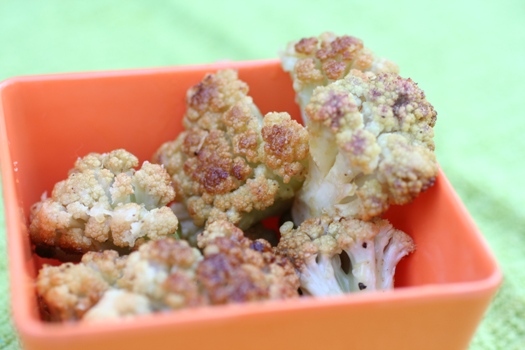 *Scroll down to use print recipe feature and add to your Recipe Box.
You know, any vegetable prepared by roasting tastes great… not good, but great. I have to admit up front, I am not a huge cauliflower fan.  So, when I got 2 heads in my CSA share last week, I was a little underwhelmed.
I actually really like pickled cauliflower in Giardiniera. Well, I like anything pickled, or in vinegar for that matter.  And by the way, if you have never tried Giardiniera and like savory and tart flavors, you will fall in love with it! But, I am not going to go to the trouble of pickling just two heads of cauliflower.
I roast most vegetables when I don't know what to do with them and they usually turn out pretty well, so I just applied this same method here.  This time, I also incorporated two of my very favorite ingredients…lemon and Parmesan cheese.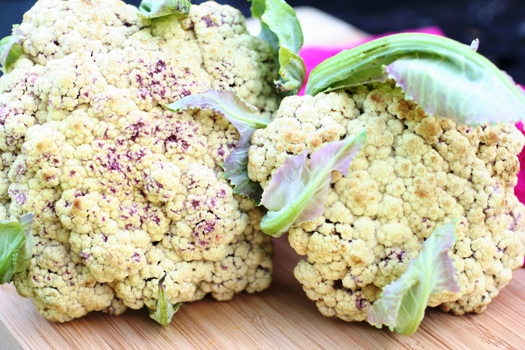 See how beautiful these cauliflower heads look? They had a purplish color through them, so  I just had to figure out a great recipe to do them justice. Roasted Cauliflower works as a nice side to just about any dish. I like it alongside a roasted chicken breast or steak with my favorite Greek Marinade or even tossed in this deliciously tasty Basil and Lemon Spaghetti.
I would love to hear your favorite recipes and uses for cauliflower.  Please share them below.
Roasted Cauliflower
Serves:
4-5 cups of cauliflower florets
Ingredients
1 medium cauliflower, cut into 2 inch florets (4-5 cups)
3 tablespoons olive oil
2-3 garlic cloves, minced
1 lemon, juiced and zested
2 tablespoons Parmesan cheese
salt and pepper, to taste
Instructions
Preheat the oven to 450 degrees.
In a large mixing bowl, combine oil, garlic, lemon, and seasonings. Toss in florets to coat.
Place coated cauliflower florets on a large baking sheet and cook in the oven for 15-20 minutes, until browned.
Remove from oven and garnish with Parmesan cheese before serving.
Nutrition Information
Serving size:
5-6 servings
Recipe developed by Kelly Hancock ©2010 Faithful Provisions. For personal use only. May not be reproduced, reprinted or distributed for capital gain without prior permission from Kelly Hancock.