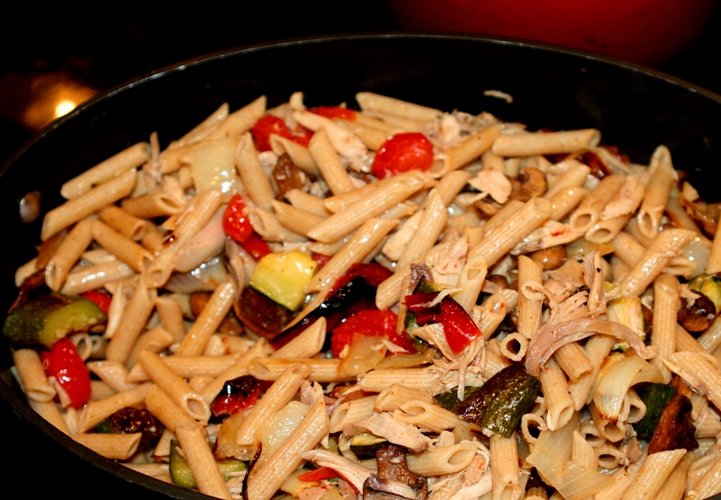 This is a great way to use up leftover vegetables in your crisper!  I absolutely love roasted vegetables, and I forgot just how much until last night. This is a nice large serving for a group and it has such great flavor.  Since it has whole grains and veggies, all you really need is a bread to round this out.  (You really don't need that, but we love bread!)
*Scroll down to use print recipe feature and add to your Recipe Box.
Here is  my version of Sausage and Roasted Vegetable Penne. We don't care for Italian Sausage, so I substituted it with chicken, but I think this might even taste better with no meat at all.  The roasted vegetables give it such a sweet and savory taste.  This recipe doesn't even really have a sauce, all the flavor comes from the vegetable juice runoff.
You don't have to use all of these vegetables, just use what you have on hand. I even pulled out frozen red pepper quarters to roast and they tasted great. If you don't have penne pasta on hand, use whatever pasta shape you have in your pantry, even spaghetti would be perfect with this.
Roasted Vegetable Pasta
Ingredients
1 onion, cut into wedges (sweet, white or vidalia)
1 medium zucchini, sliced into quarters or ½ lengthwise
1 red bell pepper, quartered
1 pkg mushrooms
pint grape tomatoes, washed
2-3 Tablespoons olive oil
kosher salt and fresh ground black pepper
¼ cup white wine (or chicken broth)
1-12 oz pkg of whole grain penne pasta, cooked according to pkg; reserve 1 cup pasta water
fresh grated Parmesan, as garnish
1 cup shredded chicken (optional)
Instructions
Preheat oven to 400 degrees.
Place onion, zucchini, mushrooms, and peppers on a baking sheet.
Drizzle with olive oil, salt and pepper.
Toss to coat evenly.
Roast for 15 minutes.
Add cherry tomatoes (toss with oil, salt, and pepper too before putting on sheet) and cook another 15 minutes. (Cook first batch a total of 30 minutes.)
Cook all veggies until caramelized, which is a light brown color.
While that is in the oven, boil pasta, and be sure to save about 1 cup of pasta water to add to pasta sauce later!
If you add meat to this recipe, heat it up in a large skillet over medium to low heat. Add white wine or chicken broth to deglaze and mix with meat juices.

Once the veggies are removed from the oven, coarsely chop them up and put them into the skillet with the meat and any pan juices.
Toss in the cooked pasta, and reserved pasta water if needed to moisten. Season to taste with salt and pepper and garnish liberally with fresh Parmesan.
Recipe developed by Kelly Hancock ©2010 Faithful Provisions. For personal use only. May not be reproduced, reprinted or distributed for capital gain without prior permission from Kelly Hancock.