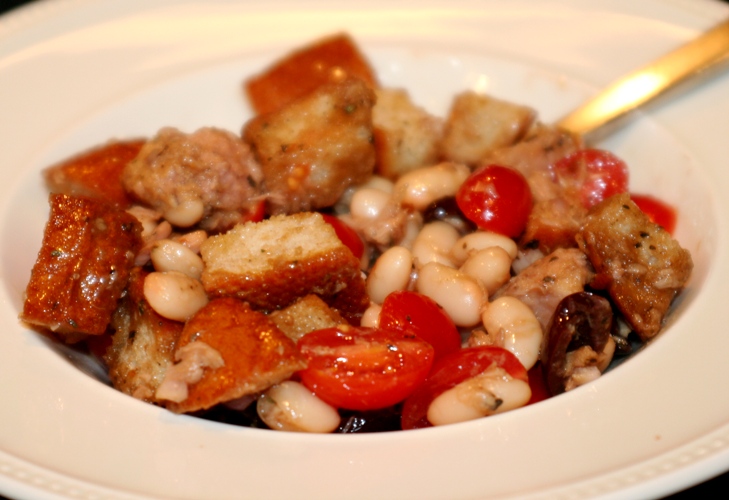 This recipe came out of my wanting to use up some day old bread and cherry tomatoes I got on sale.  I made this recipe and the Roasted Vegetable Penne in the same week, since both called for a large amount of cherry tomatoes! I was watching Food Network while they were making this Tuna Bread Salad, but I decided to toast my croutons, since I love them crunchy.
I have to admit, I was very surprised that my husband liked this.  He isn't a big canned tuna fan, nor an olive lover.  But, he scarfed this right up, there was none left. There are two things that I think make this dish, toasting the croutons and getting the italian oil-packed tuna. The tuna is a little more, but well worth it.  It wasn't fishy and had a great flavor.
I did omit the basil leaves which would have given this great flavor, but I just couldn't justify the cost.  It will be great to make in the summer months too.  So put it on your list! You can also exchange the shallot for red onion, it will just have a stronger taste.
Tuna Bread Salad
1 cup halved cherry tomatoes
1 cup cooked white beans (cannelini or Great Northern will work fine)
1 (5-6 oz) can white tuna, packed in olive oil (look for italian tuna, mine was only $1.89/can), drained
1 shallot, thinly sliced or minced
1/4 cup pitted kalamata olives, sliced in half
1 baguette, cut in cubes (day old)
2 tablespoons basil leaves, roughly chopped
Dressing:
2 teaspoons dijon mustard
1 tablespoon balsamic vinegar
kosher salt and fresh ground pepper, to taste
3 tablespoons extra virgin olive oil
Toss bread cubes on sheet pan with olive oil, kosher salt and fresh ground pepper. Toast in the over on 400 degrees for about 12 minutes, or until brown and slightly crisp.  They will soften up in salad with juices and dressing. Set aside and let cool.
Whisk together dressing ingredients except for oil.  Then drizzle in oil, whisking to blend, and set aside.
In a medium serving bowl, toss tomatoes, beans, tuna, shallot and olives. Right before ready to serve put in the bread cubes and toss with dressing.
Recipe developed by Kelly Hancock ©2010 Faithful Provisions. For personal use only. May not be reproduced, reprinted or distributed for capital gain without prior permission from Kelly Hancock.