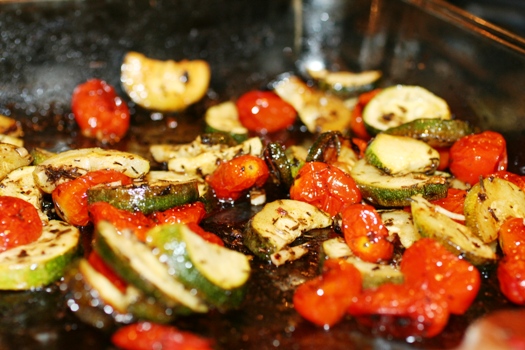 I found zucchini and cherry tomatoes on sale this week and made this as a side to my Kale and Bean Ragout. I could have eaten the whole thing, and it is so good for you!
Roasted Zucchini and Cherry Tomatoes
Ingredients
2 medium zucchini, quartered
1 pint cherry tomatoes
¼ cup Greek marinade
Instructions
Preheat oven to 400 degrees.
Toss zucchini and cherry tomatoes in marinade, then pour into a 9×13 glass dish.
Cook in oven for about 15 minutes or until fully roasted.
Recipe developed by Kelly Hancock ©2010 Faithful Provisions. For personal use only. May not be reproduced, reprinted or distributed for capital gain without prior permission from Kelly Hancock.