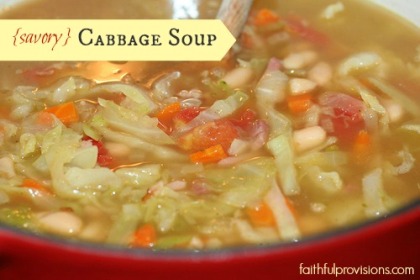 I love trying new soup recipes as fall arrives. There is nothing like a steaming bowl of soup along with your favorite sandwich. (I love a Reuben with this!)
*Scroll down to use print recipe feature and add to your Recipe Box.
This cabbage soup recipe is hearty and savory. Not only does it smell wonderful, but it's loaded with good-for-you veggies and fiber-rich beans. Add a flavorful cured meat you have on hand (or in the freezer) like bacon, diced ham, turkey sausage, or pancetta to really boost the flavor and make this soup unforgettable.
Savory Cabbage Soup
Ingredients
½ cup of cured meat (use bacon, diced ham, turkey sausage, or pancetta)
1 tablespoon olive oil
1 whole onion, diced
1 stalk celery
1 large carrot
½ head of cabbage, sliced
2 cups chicken broth (or vegetable broth)
2 cups (or 1 can) white beans (Northern Italian or Cannelini)
1 can diced tomatoes
2 cloves of garlic
1-2 bay leaves
2-3 sprigs fresh thyme
Salt and pepper to taste
Instructions
Saute onions, celery, garlic, and carrots in olive oil.
Once onions are translucent, add your choice of cured meat. (If you decide to use bacon, it will need to be added to the vegetables about 2-3 minutes after they have been cooking, so that it can cook too. Any other cured meat will already be cooked and can be added after vegetables are cooked through.
After bacon has cooked for 2-3 minutes, add in cabbage.
Cook on medium heat in stock pot, stirring constantly. (I use my Le Creuset Cast Iron Dutch Oven ) Cook until cabbage cooks down and gets soft. (If it looks too dry, add more olive oil.)
It will begin to caramelize, so be sure that you are stirring up all the caramelization from the bottom of the pan.
Add in the bay leaf, diced tomatoes, white beans, and 32 ounces of broth. (If you like alot of broth add another 16 oz can.)
Bring to a rolling boil and then turn down to simmer for 20-30 minutes.
Serve with Parmesan cheese and toasted baguettes.
You might like these sandwiches with your Savory Cabbage Soup: