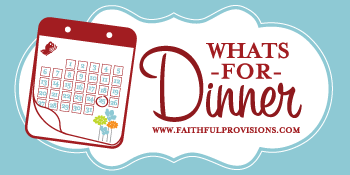 Tonight's Dinner Idea is Kale & Bean Ragout. Kale is something that I didn't even try for a long time, but I'm so glad I did! I've found it has become one of my favorite green leafy vegetables. It's so versatile and it's one of the best foods you can put in your body.
Check out this list of 10 Top Heart Healthy Foods and Recipes for more good-for-you ideas.
Need a little inspiration? Check out my Recipe Box which is updated daily with new recipes!
=================================
Wondering what to make for dinner tonight? You'll love my money-saving recipes on what to cook for dinner! You are encouraged to not only list your dinner plans, but to request ideas and add your favorite recipes!