For several years now, I've been on a personal quest to raise children who enjoy nutritious foods and who understand–on an age-appropriate level, of course–how important it is to make healthy choices. I'm sure this will pay off as they get older, but I've probably seen the biggest payoff right now, in that my husband and I have abandoned our own cavalier attitudes toward personal health and we are taking ownership of our nutritional needs.
Knowing that we are setting an example for our kiddos has made all the difference. I've been learning lately about the importance of Omega-3. DHA is one of the most important of the Omega-3's. It composes the major structural fat in the brain and eyes. Research that I've read recently indicates that scientists acknowledge that DHA consumed in the diet can become available to support brain, eye, and heart health. Those are critical health areas.
If you're like me, when you think of Omega-3's, you think of fish. And since many kids aren't crazy about fish, you're wondering how you are going to make sure that DHA Omega-3 is getting into your children's diets, right? Well, here's some good news: Horizon Organic is the only nationally branded organic milk with a plant-based, sustainable source of DHA Omega-3. So there's nothing fishy about it. In fact, you can use Horizon's Organic milk with DHA Omega-3 in all the recipes you enjoy that call for adding milk. For example, my simple recipe for French Toast has the added benefits of DHA Omega-3 when I use Horizon's Organic Milk with DHA Omega-3.
French Toast Recipe

Ingredients
sandwich bread
5 eggs, beaten
1/4 cup Horizon Organic DHA Omega-3 Milk
lots of cinnamon
cooking spray
powdered sugar (optional)
fresh fruit (optional)
syrup (a must!)
Instructions
In a shallow bowl or pan, beat eggs, add Horizon Organic DHA Omega-3 Milk and sprinkle in cinnamon.
Beat to mix again. (I just beat with a fork.)
Dredge bread in egg mixture. Be sure to coat well.
Heat pan on medium heat, cover with cooking spray just before you put bread in.
Brown both sides.
Top with powdered sugar, fruit, and a little syrup. Enjoy!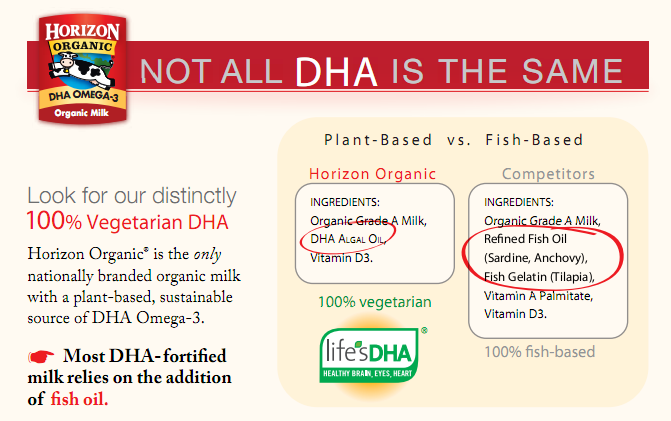 Recipe developed by Kelly Hancock ©2010 Faithful Provisions. For personal use only. May not be reproduced, reprinted or distributed for capital gain without prior permission from Kelly Hancock.
DHA belongs to a category of healthy fatty acids known as Omega-3's. DHA is a major structural fat in the body, and has been shown to support brain, heart and eye health. Not only is DHA found in foods like salmon and eggs, but it can also be found in Horizon® Organic Milk enhanced with DHA Omega-3. Learn more about Horizon's commitment to healthy families at http://www.horizondairy.com/everyday-nutrition/dha-omega-3/
This is a sponsored conversation written by me on behalf of Horizon. The opinions expressed by me do not necessarily reflect the view of the Horizon Organic brand.