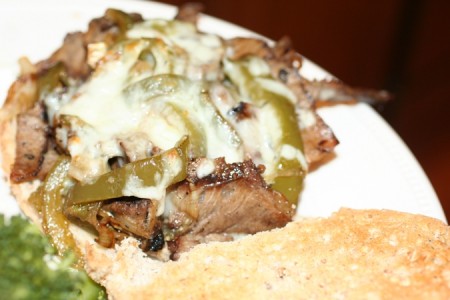 One of the habits I have gotten into when grilling is to always cook a little extra, and use it later in another meal.  While it is difficult to imagine delicious, grilled-to-perfection steak making it through to a second meal, I give my husband way more than I know we can eat in one sitting so we can save what's remaining for another quick meal later in the week.
When Meal Planning and getting ready for a new week, the first thing I do is take a quick check in my refrigerator to see what needs to be eaten asap.  This week it was the leftover steak, so I reached out to my Facebook Community for some new ideas.  I really liked the idea that Laura, Angie, and Linda offered up to make a Philly Cheese Steak Sandwich out of my leftover steak. My husband did too!
*Scroll down to use print recipe feature and add to your Recipe Box.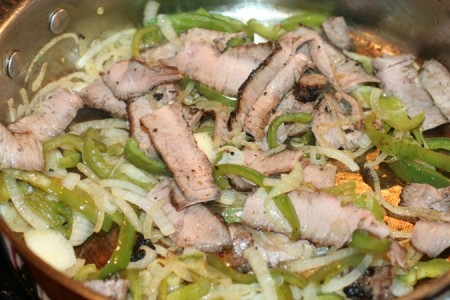 In the summer (when they are on sale) I flash freeze peppers in different cuts, so that I have both diced and strips on hand at any time.  I just pulled about a cup or so of pepper strips from the freezer to drop in with my onions.
I keep bread on hand, too, and it's another area where I find great savings. My Kroger marks down their bread in the bakery area, so when I find whole wheat hoagies and kaiser rolls marked down, I get several and store them in the freezer to use later.  Since all I had on hand was kaiser, that is what I used, but hoagies would probably look more like a traditional Philly Cheese Steak Sandwich.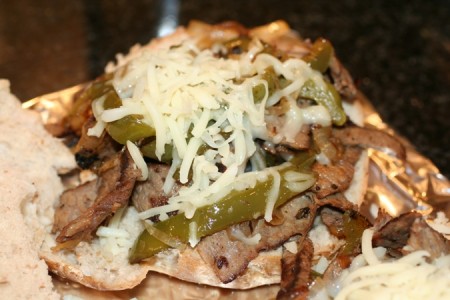 A tip with the bread is to toast it on an electric griddle or in your pan with butter.  Get the inside of the bun a nice, crispy golden brown. This is my favorite part, but if you want to keep the calories down, just cut in half and top, then broil the cheese, this works well too! I only had shredded cheese, so it tasted just the same using what I already had on hand.
Lastly, the A1 is optional, but I am a condiment junkie, especially if it has a vinegar base. I love a tart, sour taste in almost all my food. You could even dash on some Frank's Hot Sauce to give it a little kick!
Philly Cheese Steak Sandwich
Ingredients
1-2 lbs leftover steak, cut in thin strips
1 onion, sliced thin
1 green pepper, sliced in strips
Lawry's Seasoning Salt (optional)
buns or rolls (hoagie and Kaiser are my favorite!)
1-2 tablespoons butter
4-6 slices provolone or mozzarella cheese
A1 Sauce and/or Frank's Hot Sauce
Instructions
Preheat your oven to broil.
Melt 1 tablespoon butter in large pan and saute onions until translucent.
Add peppers and cook until soft.

Season with Lawry's if you have it on hand, if not, just use salt and pepper generously.
Add leftover steak strips, toss all together, and heat through.
Lay buns on a baking sheet, top with steak mixture and cheese.
Place pan into oven just long enough to melt the cheese. This should only take 1-3 minutes, so don't walk off or you will have burned sandwiches.
Before eating, pour a generous amount of A1 and sprinkle Frank's Hot sauce (if you can stand it!). Enjoy!
Recipe developed by Kelly Hancock ©2010 Faithful Provisions. For personal use only. May not be reproduced, reprinted or distributed for capital gain without prior permission from Kelly Hancock.
Wondering if steak is healthy for you? Checkout this article 31 Science-Backed Health Benefits of Steak.