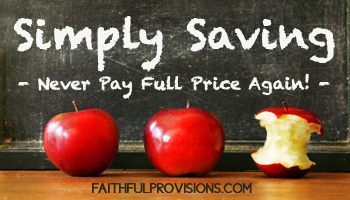 Welcome to my new series, Simply Saving — Never Pay Full Price Again! I am going to kick the series off with Coupon Organization 101. When I teach the basics of saving money, I usually don't begin with coupons,  however it is definitely the most requested topic. So, I am going to start here and then move on to other topics like meal planning.
Coupon Organization 101:  Two Methods of Coupon Organization
There are two basic methods to organize your coupons. You can either "Clip and File" or "Clip as You Go". Let's look at exactly what each looks like, their advantages, and disadvantages. We will talk about all the various filing systems next, but this week we will be focusing on which method works best for you, then pick a filing system.
Clip & File
"Clip & File" is a method where you take your weekly Sunday coupon inserts and clip all the coupons then put them into your favorite filing system.
Advantages
Increase your stockpile more quickly. Having your coupons already clipped, allows you to take them with you to the store. If you have them with you when you are at the store, you will be able to get deals you missed when looking through the store ad during your planning time. I highly recommend this method for beginners. It allows for you to build your pantry at a faster rate, while saving more money.
Take advantage of clearance deals. Clearance deals are unadvertised sales that the store runs when they are trying to unload a product.  They are not in the sale ad, and are usually marked down around half price.  You can use coupons on clearance items, so if you have your coupons with you, it allows you to stock up on serious deals by combining the clearance sale with a coupon.
Familiar with your coupons on hand. If you are physically clipping your coupons each week, then you having a working knowledge of what coupons you have in your coupon binder. This is especially handy if you get coupons from other regions, you can quickly see the different values and use the one that garners you the highest savings for that transaction without wasting time.
Disadvantages
Time consuming. Clipping coupon inserts each week can be quite time consuming, especially if you get multiples. However, if you have little ones, they can help. Cutting, organizing and sorting coupons are great skills your children can learn all while helping you out!
Must keep it updated. Keeping your coupon system updated and removing expired coupons can be a tedious task.  However, I find most coupons expire at the end of the month or quarterly.
Need a little more information?  Checkout Facebook comments on the Advantages and Disadvantages of Clipping Coupons.
Clip As You Go
The "Clip As You Go" method is where you take your Sunday coupon inserts or store booklets, and label them with the date on the front, and file them away as whole inserts.  You do not clip your coupons.
How it Works
Clipping as you go is a great alternative because of all the online resources available today, like the Faithful Provisions Coupon Database. The Coupon Database catalogs and links to all coupons currently available either via insert, online, or other source.  A key to this  method is learning the Coupon Lingo. For example, you will see abbreviations that look like this: 9/13 SS or 6/7 RP. This means that the coupon can be found in the September 13 (9/13) Smart Source (SS) insert or the June 7 (6/7) Red Plum (RP) insert. These are inserts that are typically found in your Sunday newspaper.
Use the Coupon Database to find where the coupons are that you need, and match them up with a sale item.  Each week I do this for you by matching coupons with store sales, using the coupon lingo. You can use my weekly store coupon matchups to do all the work for you!
For example:
Peter Pan Peanut Butter, 15 oz — $1.50
-Use $1/1 Peter Pan Peanut Butter coupon in 12/10/2010 SS insert
Final Price:  $.50 after coupon and sale
Advantages
Saves time. Hands down the biggest advantage is that you save time over the "Clip & File" method.  No more long Sunday coupon clipping sessions. You only clip the coupons you need and plan on using. I merely create my list which indicates where I can find the coupons, and set off to clip only the ones I need. Or if I need a coupon for something in particular, I can just use the Faithful Provisions Coupon Database to easily and quickly find it!
Disadvantages
Longer stocking up period. The greatest challenge most find with this method is that you can't build your stockpile as quickly.  You typically aren't as familiar with the coupons you have on hand and by not having them with you at the store, you can't get any "extra" sale items you missed the first time around in the store ad.
Miss out on clearance deals. If you don't have your entire coupon inventory with you, you can't grab the unadvertised clearance deals.
You can read more readers comments on the Advantages and Disadvantages of "Clip As You Go" on this Facebook discussion.
Combined Method
I have used both of these methods, but over the last few years I have found that combining these methods works really well for me. I don't have the time or desire to cut all the coupons, but I want to have some on hand with me while I am in the grocery. So what I do is clip my favorite coupons, or you could even clip one set of inserts, and then I file the rest. That way I have some with me in the store, but if I need to do serious stocking up, I will need to plan ahead and come back.
I hope this helps!
Which clipping method do you use? Please share with us what method you use and why.  I would love to hear your tips and tricks on keeping your coupons organized.
Next week…. Methods of Coupon Organization (Part 2) – come back to learn the most popular Coupon Filing methods by veteran couponers!