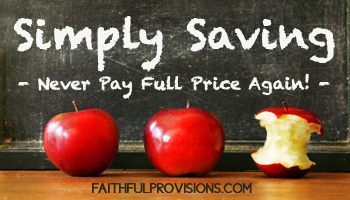 Missed the first posts in the Simply Saving series? Read them here.
Last week we talked about advantages and disadvantages of clipping coupons versus filing the entire inserts. This week we will talk about the different coupon organization filing systems you can use. Everyone is different and I have found that the method you choose depends on your personality, financial situation and season of life. It doesn't matter which system you pick, just be sure to pick one that works well for you, one that you will stick with. If you don't keep your coupons organized, you are better off just sticking with meal planning and shopping the sales. I promise.
Accordion Files

File and Wallet Size
This is used for the Clip & File Method. The accordion file comes in two different sizes, there is an index size and a wallet size.  I prefer the wallet size because I don't have to fold my longer coupons, like the Catalina's that I frequently get. When I am using an accordion file, I like to make sure I have two.  I use one file for food items and the other for non-food. Having two different files makes it easier for me to find what I am looking for quickly.  For instance, I usually have a plethora of medicine or yogurt coupons. I separate out refrigerated items from dairy, because if not, I would have a huge pile of coupons to flip through while I am in the store. More organized = Save Time=Save Money.
Full Size
Another type of accordion file is a full size, like an 8.5×11 piece of paper or the full size of a Sunday coupon insert.  You will use this for Clip As You Go Method filing. You can use this type of filing system in two different ways: to file your weekly Sunday coupon inserts or for filing your store booklets. These types of files typically only have around 5-6 dividers, so they are better suited for separating out your booklets by store.
Coupon Binders
The Coupon Binder system is by far the most labor intensive, however you will save the most money using this method. I highly recommend it for those on a tight budget. Read more on the advantages and disadvantages of this method here. You basically get a three-ring binder (one that zips is ideal), and you purchase baseball card inserts (as pictured above) at somewhere like Target/Walmart/office supply stores, then you create categories for the pages, as listed below.
Checkout the links below on more details for creating your own Coupon Binder:
How To Create a Coupon Binder (video)
The Anatomy of a Coupon Binder (tutorial)
Coupon File Categories
With both the Accordion File and Coupon Binder systems you will want a list of categories to use when separating out your coupons. Below is a table with my suggested coupon filing categories.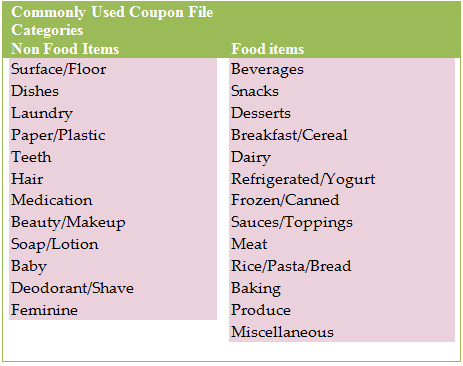 Checkout Save at Home Mommy's Coupon Binder System, if you are looking to purchase one that is put together.  Come back later today, because we will be giving one away!
Portable File Box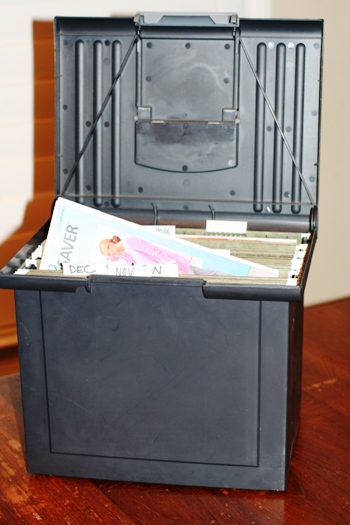 If you are a "Clip as You Go" type of person like I am, this method is great. I take the weekly Sunday coupon inserts and write the date on the front, then file into my portable filing box (pictured above). I also use this box to file my All You magazines, and store coupon booklets. Then when I want or need to find a coupon, I simply type what I am looking for into my coupon database and it tells me where to find it!
These are the main systems I have seen used by veteran couponers.  I have found that a combination of the accordion file and the portable file box works well for me.
What method of coupon organization do you use? I would love to hear what system you use and how it works for you. Please leave a comment below and tell us your experiences and tips.