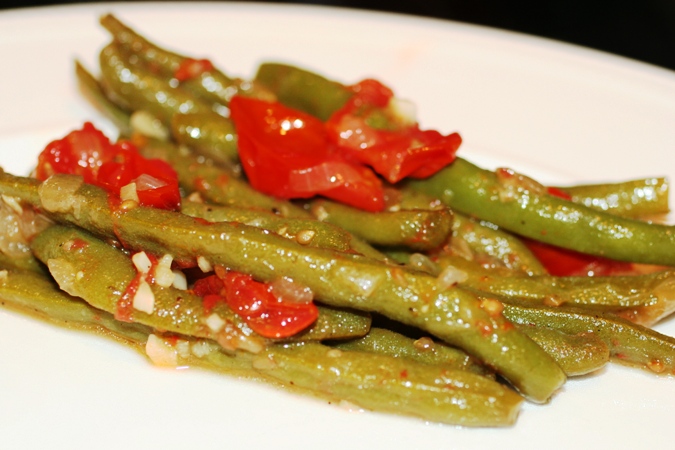 This week in our garden I harvested almost a pound of fresh green beans!  So, I incorporated it into my dinner this week. Now, I used bacon fat. Yes, I know that isn't real healthy, but it makes such a difference in the taste. You could use olive or coconut oil for a healthier option.
Another thing I did was use a seasoned iron skillet.  You can just use any skillet if you don't have one.
Skillet Green Beans
1 lb fresh green beans, cleaned and ends cut
1-2 tablespoons bacon fat (you can sub with olive, coconut or canola oil)
4 garlic cloves, minced
1 small onion, diced
1-14.5 oz can chicken broth
handful of cherry tomatoes, halved
Heat skillet on medium heat, and melt bacon fat, saute garlic less than a minute.  Add onions and cook until transparent, about 3 more minutes. Add green beans and saute another 3-4 minutes.
Next add tomatoes and chicken broth. Simmer on low for about 20-25 minutes. The broth will cook out and leave you with just the good stuff.
Then you have perfect green beans!
Print Recipe: Click on the green "print friendly" icon at the bottom of this post, and check "remove images" for a printable version.
Recipe developed by Kelly Hancock ©2010 Faithful Provisions. For personal use only. May not be reproduced, reprinted or distributed for capital gain without prior permission from Kelly Hancock.