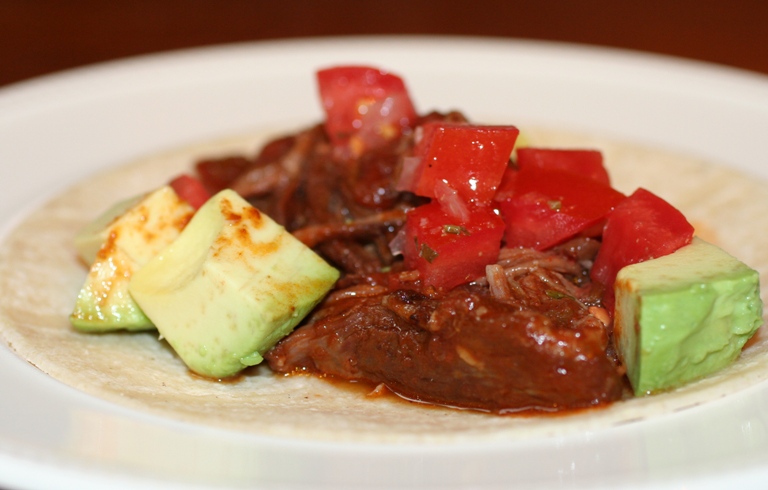 I love the smell of meat cooking in the slow cooker and I love Mexican inspired dishes. The combination of the ingredients slow cooking with the beef all day makes this dish absolutely dripping with flavor. Carne Asada. Think of a Mexican BBQ beef, tangy, spicy and rich. If putting it in the slow cooker wasn't easy enough, putting it together to eat was just as simple. From slow cooker to table took about 5 minutes total.
*Scroll down to use print recipe feature and add to your Recipe Box.
With Carne Asada I like to keep the toppings simple and fresh. I chose to use corn tortillas, they give it a lighter fresher taste.  However, flour tortillas work nicely here.
Some of my favorite ways to top a simple corn tortilla filled with shredded Carne Asada meat are:
diced avocados
fresh lime
cilantro
pickled jalapenos
diced white onions
Freeze This Dish
Want to make it ahead of time?  This dish freezes well both before and after you cook it. Just take all ingredients and put them in a freezer bag with the meat, and freeze.  Thaw before putting it into the slow cooker.
Slow Cooker Carne Asada

Ingredients

2 lbs flank steak or stew meat (i.e.- chuck roast)
1 cup salsa (tomato sauce based – like Chi Chi's or Old El Paso)
1 can diced tomatoes with green chilies (Rotel)
2 cloves garlic, minced
1 teaspoon chili powder
1 teaspoon cumin

For Serving!

Corn or Flour Tortillas
Diced Avocado
Pico Di Gallo or diced tomatoes and onions
Fresh squeezed limes
cilantro

Instructions

Combine all ingredients in a slow cooker.
Cook on low for 8 hours.
Before serving, take two forks and shred beef.
Stir with juices.
Serve over warm corn tortillas and garnish with pico di gallo, avocados, lime and cilantro.
Note: The sauce tends to make the tortilla break. I recommend doubling up on the tortillas--two tortillas per wrap.
Recipe developed by Kelly Hancock ©2010 Faithful Provisions. For personal use only. May not be reproduced, reprinted or distributed for capital gain without prior permission from Kelly Hancock.