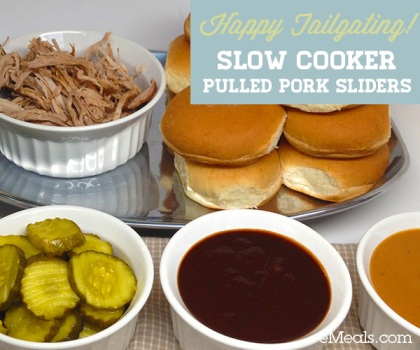 Whether you're hosting a tailgating party at home or at the game, what could be simpler than loading up the slow cooker and letting it do the work for you? These Slow Cooker Pulled Pork Sliders from eMeals are just one of several tailgating recipes that are available right now to both current customers and new subscribers. The eMeals tailgating menu serves 8 to 12 and offers six mouth-watering recipes.
Slow Cooker Pulled Pork Sliders and more Tailgating Recipes from eMeals
Ingredients
6 pounds bone-in pork should roast, trimmed
2 teaspoons salt, 2 teaspoons pepper
18 ounce bottle barbecue sauce
½ cup chicken broth
2 tablespoons apple cider vinegar
2 (12-count) packages slider buns
16 ounce jar bread and butter pickles
Instructions
Sprinkle roast with salt and pepper.
Combine roast, barbecue sauce, broth and vinegar in a 5- to 7-quart slow cooker.
Cover and cook on Low 8 hours or until roast is very tender.
Remove pork to a cutting board; shred with 2 forks.
Return pork to slow cooker, and discard bones.
Toss pork to coat with sauce; serve on slider buns with pickles.
The eMeals Tailgating Menu and Recipes is FREE with new orders! You'll get more great recipes like this one, so simplify your life and subscribe at emeals now!