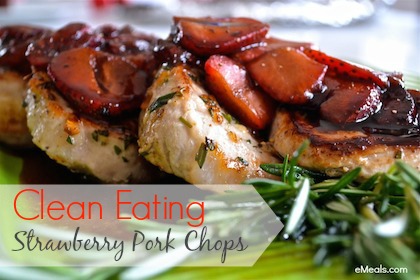 If you're trying to eat healthier and following a Clean Eating food plan, then you're going to want check out this new menu option from my friends at eMeals.   Right now you can give it a try with this FREE sample recipe from the Clean Eating menu plan: Strawberry Pork Chops.
*Scroll down to print recipe.
I love that eMeals offers so many healthy meal planning options. Choose from Paleo, Mediterranean, Clean Eating, Natural & Organic or any of their 13 other menu plans. You'll definitely be able to find one to fit your family's lifestyle.
Plus, you can download the FREE eMeals app to your iPhone or Android device. I love that I can even menu plan while waiting in a car rider line.  Plus, I never forget my shopping list at home!
Save on a Subscription to eMeals Now! Save 15% on an eMeals menu plan when you use the code MEALS15 at checkout.
eMeals Recipe: Turkey-Bacon Tortilla Roll-Ups
Ingredients
8 slices bacon
Mayonnaise
1 (8-oz) package store-bought guacamole
4 (8-inch) flour tortillas
¼ lb thinly sliced deli turkey
1 cup shredded Cheddar cheese (or any shredded cheese)
1 cup shredded iceberg lettuce (optional)
Instructions
Cook bacon in a large skillet over medium heat until crisp; drain.
Spread a thin layer of mayonnaise and guacamole over each tortilla.
Layer turkey, bacon and cheese on each tortilla.
Add lettuce, if desired.
Roll up tortillas, and cut in half.
Makes 4 servings.