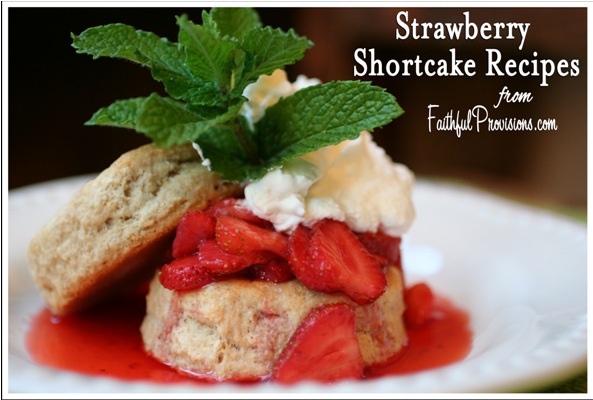 Summer is the perfect time to try strawberry shortcake recipes. There are so many different ways to make a strawberry shortcake, so I will show you one classic version and one shortcut. Depending on the amount of time you have, either of these will work great.
*Scroll down to use print recipe feature and add to your Recipe Box.
The classic version I have for you here brings back wonderful memories for me. I remember my grandmother rolling out homemade biscuits. She always had biscuits on hand because she made them every day. We always used the leftover biscuits for strawberry shortcake. She never had to measure anything. For instance, she could make an entire strawberry shortcake recipe from scratch, never looking at a recipe–from the homemade biscuits all the way to the homemade whipped cream!
Classic Homemade Version
Use your favorite biscuit recipe. (Scroll down for links to my favorite biscuit recipes.) If you want a sweeter version of any biscuit recipe, add two tablespoons of sugar to your favorite dough. Often, I make my biscuits the day before, so that they are not hot when you are trying to make a cold strawberry shortcake.
Shortcut Version
If you are not into making biscuits or you don't have the time, purchase the frozen kind. Please note: You don't want a "flaky" or "layered"biscuit for this recipe. You want the ones labeled "homestyle." You could also purchase a pound cake or an angel food cake from your grocery's deli.
:: See more dessert recipes with strawberries.
Strawberry Shortcake Recipes
Instructions
Follow recipe for fresh strawberry filling set aside.
In your favorite dessert bowls, lay one-half of a sliced-open biscuit.
Layer with strawberry filling.
Set the top of the biscuit on next.
Put another tablespoon, with plenty of juice, of filling on next.
Finish with a generous portion of whipped cream, about two tablespoons.
Tip: To make it look extra pretty, add a sprig of mint, fresh from your garden! Serve immediately.
You might also like:
Easy Fresh Strawberry Pie Recipes (coming soon)

Recipe for Strawberry Cheesecake (coming soon)

Strawberry Cupcakes (coming soon)


Find more recipes with strawberries on Faithful Provisions.
Recipe developed by Kelly Hancock ©2010 Faithful Provisions. For personal use only. May not be reproduced, reprinted or distributed for capital gain without prior permission from Kelly Hancock.