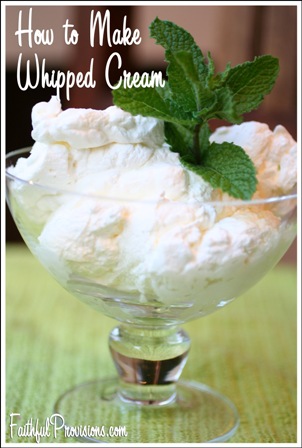 If you're looking for a recipe for making whipped cream, here's a few things I've learned from making my own whipped cream.
*Scroll down to use print recipe feature and add to your Recipe Box.
Half and Half does not work. You need the all the butterfat of the cream in order to make it whip.
Chill the whipping bowl and the beater for 10 minutes in the freezer before you begin making whipped cream.
Don't whip for more than 2-3 minutes. If you over-whip, you will have butter!
Any sugar works fine. I prefer to use powdered sugar because it dissolves more easily.
Vanilla extract is optional, especially if you are like me and you like the pure taste of the whipping cream itself.
Homemade Whipped Cream | Tips for Making Whipped Cream
Ingredients
1 pint whipping cream
3 tablespoons powdered sugar
1 teaspoon vanilla (optional)
Instructions
Chill bowl and beaters for ten minutes in the freezer.
Remove cream from refrigerator and pour immediately into cold bowl. It is very important that the cream stays very cold. Don't let it sit on the counter.
Whip on high for 2-3 minutes, or until peaks form.
Do not over-whip.
Enjoy!
Recipe developed by Kelly Hancock ©2010 Faithful Provisions. For personal use only. May not be reproduced, reprinted or distributed for capital gain without prior permission from Kelly Hancock.