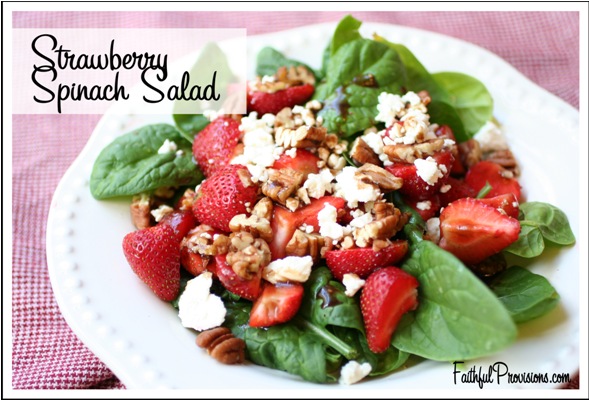 This Stawberry Spinach Salad is the perfect accompaniment to a quiche, or as a nice healthy lunch. Whisk together the simple ingredients for the dressing in a large salad bowl, then add your salad ingredients to it. This way, you're only using one bowl, which makes for easy clean-up!
Strawberry Spinach Salad with Sweet Balsamic Dressing
Ingredients
Ingredients for Strawberry Spinach Salad
Chopped strawberries
Cranraisins
Chopped pecans
Your favorite salad mix (spinach or leafy greens)
Ingredients for Sweet Balsamic Dressing
1-1/2 Tablespoons balsamic vinegar
3 Tablespoons extra virgin olive oil
1 teaspoon honey
1 teaspoon Dijon mustard
Salt & pepper, to taste
Instructions
Whisk dressing ingredients in the bottom of a large salad bowl.
Add salad mix and chopped berries.
Toss to coat evenly.
Sprinkle with generous handfuls of cranraisins and chopped pecans.
You might also like:
Find more Recipes with Strawberries on my Pinterest board!
Recipe developed by Kelly Hancock ©2010 Faithful Provisions. For personal use only. May not be reproduced, reprinted or distributed for capital gain without prior permission from Kelly Hancock.