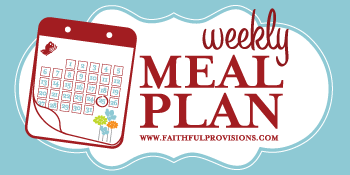 Need ideas for your weekly meal plan? I'm listing some of the things on sale at your grocery stores and then following that with recipes from my Recipe Box that coordinate with those sales. Let me know if you like this and if it helps you out with planning your meals this week.
*If you think it's something your friends could use, please share it on Facebook using the button above!
Click on a Plan Below
My Weekly Meal Plan
I don't think I ever got my weekly meal plan up last week! In the middle of getting ready for my trip to Ecuador, I had to deal with a stomach bug! While I'm gone this week, Bradford and the kids will be able to pull lots of meals out of the freezer. (Thanks to National Hot Breakfast Month and last week's 10/$10 sale on eggs at Kroger, my freezer is full of lots of Freezer Friendly Egg Recipes. Check out the recipes HERE.) I'm doing a Roasted Sticky Chicken in the crock pot on Sunday, and that way they'll have some leftovers from it too. Here's what they will be eating:
Sunday: I'm doing my Roasted Sticky Chicken in the slow cooker. Probably for sides I'll do rice, Skillet Green Beans, and a BLT Salad with Homemade Buttermilk Dressing.
Monday: BBQ Chicken Nachos (my hubby's favorite!). Easy, fast, and fun. He can have any left over salad from Sunday and serve up carrot sticks and cucumbers for the kids to dip in ranch as a side.
Tuesday: Chick-fil-A  Yay–Free Kids' Meals on Tuesday nights. Plus there are lots of new, healthy menu options.
Wednesday: Vegetable Beef Soup with Grilled Cheese Sandwiches. I store soups in the freezer in zipper bags. They lay flat on the shelf this way and don't take up as much space. Check out my How to Organize Your Freezer Video HERE.
Thursday: Hashbrown Quiche and a Strawberry Spinach Salad with Sweet Balsamic Dressing. (Using strawberries that were on sale last week.)
Friday: Pizza Night! I'll be on my way home while my family does our traditional Homemade Pizza Dough with Homemade Pizza Sauce. Bradford can do a BBQ Chicken Pizza with leftovers from Sunday's Roast Sticky Chicken, or this Pesto Chicken Pizza.

Saturday: Surely we'll be going out to eat for my "Welcome-Home-Kelly-Longest-Week-of-My-Life-Without-You Dinner"  hehe 🙂
What is on your weekly meal plan this week? I'd love to hear your ideas!
Any Store Meal Plan
As you're putting together your weekly meal plan, remember that there are some items that are always going to be on sale during the month of February, no matter where you shop, so you will see them in recipes here each week, just to give you a variety of ideas for your planning.
*Click on the links below to go directly to recipes for each item!
It's National Hot Breakfast Month, so bacon, hot cereals, syrup, and pancake mixes are on sale. February is National Canned Food month too, so you will find great prices on canned goods. This is a great opportunity to help stock local food pantries. Plus, this is the Chinese New Year, so any store will have sales on items like stir fry and ramen noodles.
Don't miss all the seasonal deals on produce! Spinach is on sale (Find all my recipes for Spinach HERE in one place: the Ingredient-Based Recipe Index.)  Avocados are on sale. And you'll find great deals on sweet potatoes, mandarin and navel oranges, and tangelos. Try some of these great tasting oranges in the Any Fruit Smoothie.
*Print out my full listing on my Seasonal Fruits and Vegetables Chart. (Post it as a reference on your refrigerator.)
Try these recipes for your Any Store Meal Plan this week:
KROGER (Prices good all week)
Kroger is continuing the Daytona 500 Mega Event. When you buy participating items, you save $3 instantly at checkout PLUS receive a $2 Catalina coupon at checkout for savings on your next transaction.
STOCK UP on Pillsbury Grands Biscuits, 8 ct ($0.99), Capri Sun or Kool-Aid Jammers ($1.99), and Kraft Barbecue Sauce ($0.69). Kellogg's cereal is 50% off.
Pick up great buys in the produce area: Strawberries, 16 oz ($1.50), Bell Peppers: Red, Yellow or Orange, ($1.00/each), Eggplant ($1.00), Avocados or Mangoes ($1.00). In the meat department, check out Field or Fischer's Bologna, Lunch Meat or Hot Dogs ($1.00), Boneless Beef Shoulder Roast ($2.99/lb), and Perdue Chicken Drumsticks or Thighs ($.99/lb).
:: See all the Kroger Deals HERE.
PUBLIX (Shop before prices change on Wednesday)
There are tons of great deals at Publix this week, so don't miss the complete post of all the Publix Deals and Coupon Matchups HERE. I look forward every year to the Viva Italia Sale.  This sale will run for 2 weeks, but some of the deals are only good during either week #1 or #2. There are also Publix coupons to stack on Progresso, Green Giant & Muir Glen products this week.
STOCK UP on these BOGO deals: Progresso Soup, 18 to 19 oz ($1.14), Progresso Broth, 32 oz ($1.29), Progresso Bread Crumbs, 15 oz ($.98), Progresso Beans: Cannelini, Black Beans, or Chick Peas, 15 to 19 oz ($0.66), Ragu Pizza Sauce, 14 oz ($0.74), and much more this week. If it's Italian, it's on sale! See all the Publix BOGO Deals HERE.
In the Publix meat department, you'll find Publix Mild or Hot Italian Sausage ($2.99/lb), Jennie-O Turkey Store Ground Turkey, 20 oz ($3.49), and Whole Chickens ($1.29/lb). Pick up good buys on produce items: Florida Strawberries, 16 oz ($2.00) and Florida Tangerines ($0.13/each).
:: See all the Publix Deals HERE.
I always hope that I'm providing you with helpful content. If you found news you could use, please share it with your friends on Facebook. Thanks for telling others about Faithful Provisions!
More Resources
I have new Shopping List templates available for you. Whether you are shopping at one store or multiple stores, you can keep things organized with these FREE downloadable lists.