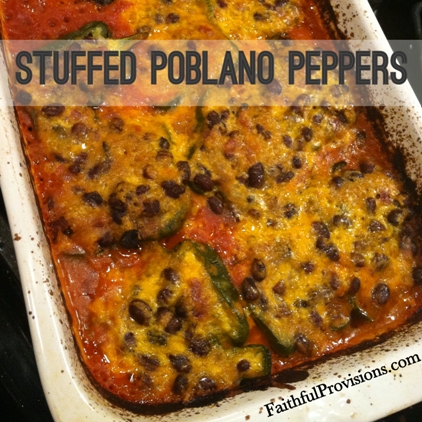 We had stuffed poblano peppers for the first time ever this week. Um, I really can't believe I have never had stuffed peppers before—these were amazing! This was a great way for me to wade in to a stuffed pepper recipe because this one is very easy, and I like easy. Since peppers are in season right now, and overflowing our CSA box, this was the perfect recipe to use our poblano peppers in.
*Scroll down to use print recipe feature and add to your Recipe Box.
Poblano Peppers
Poblano peppers, if you've never tried one, are rich and dark in color, like a jalapeno, but their size is large, similar to a green bell pepper. Now, you need to know that they do lean toward spicy. They are spicier than green peppers, but yet not quite as fiery as hot peppers like jalapenos. If you want to tone down the heat in this stuffed pepper recipe, just remember to remove the membranes (the white fleshy part) and the seeds. (COOK'S TIP: Remember to wash your hands well when you are finished handling those membranes.)
Vegetarian Stuffed Poblano Peppers
Vegetarian stuffed poblano peppers use black beans rather than meat. (For a non-vegetarian meal, you could easily add ground beef or chicken to these.) The recipe also calls for cheese (I am generous with the cheese!) and tomatoes. I use whatever tomato product I have on hand. If you have any fresh tomatoes, use those–they would work perfectly in this dish. Don't make a special trip to the grocery store, however. Because your tomatoes will be cooking in the oven with spices anyway, it really doesn't matter what kind you get.
Hope you like this!
Stuffed Poblano Peppers
Ingredients
4 medium to large poblano peppers, halved lengthwise, membranes and seeds removed (leave stems on)
1-15 ounce can tomatoes (diced, crushed, or sauce)
1 medium onion (1/2 chopped fine, ½ quartered)
4 large garlic cloves (2 whole, 2 minced)
1 jalapeno, seeded and membranes removed
¼ teaspoon salt and pepper
1 - 15 ounce can black beans, drained and rinsed
¼ cup corn meal
2 cups shredded cheese (cheddar, Monterey jack, or pepper jack)
1 tablespoon cumin
1 teaspoon garlic powder
1 teaspoon coriander (optional)
½ cup water
Instructions
Preheat oven to 450 degrees.
In a blender, combine tomatoes, jalapeno, ½ quartered onion, salt, and 2 whole garlic cloves until pureed.
Pour into a 9x13 baking dish.
In a medium bowl, combine beans, cornmeal, spices, half of cheese, remaining onion, minced garlic and water.
Stuff poblano halves evenly with bean mixture, and place on top of sauce in baking dish. Sprinkle with remaining cheese. Cover and bake for 45 minutes. Remove foil and cook another 10 minutes until browned on top.
Cool 10-15 minutes, serve with Spanish or Mexican rice.
Adapted from Martha Stewart.