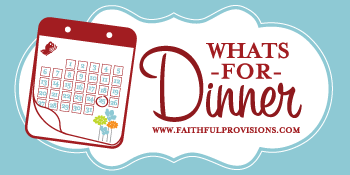 Tonight's Dinner Idea is breakfast! For me, nothing could be better. Once I started pulling meals out of my freezer, I saw that it would be easy to pull together a real feast for breakfast as dinner tonight. I love to take advantage of sales when I get a dozen eggs for a dollar. I'll make quiches like my Hashbrown Quiche and freeze them. You'll love this recipe. Hashbrowns make the crust–it is really good. Plus, we're also having  Applesauce Muffins and Breakfast Burritos.
You can see my entire meal plan for this week of eating from my freezer, and taking a break from cooking, HERE.
Need a little inspiration? Check out my Recipe Box which is updated daily with new recipes!
=================================
Wondering what to make for dinner tonight? You'll love my money-saving recipes on what to cook for dinner! You are encouraged to not only list your dinner plans, but to request ideas and add your favorite recipes!