I love sweet potatoes! They are in season now, so you'll find the best prices for stocking up. Sweet potatoes are somewhat healthier than their white potato cousins, having a higher nutritional value when it comes to their glycemic index, soluble fiber, and beta-carotene content. In my part of the U.S., we tend to think about sweet potatoes only when it comes to holiday meals, but we shouldn't. They are not only an excellent source of nutrients, but they are delicious!  Simply baked, they make for an easy side dish to steaks, chicken, or pork. (In other words, you don't always have to put marshmallows on them! LOL)
How to Freeze Sweet Potatoes
Discover how to freeze sweet potatoes, and you'll have them available to use year round. If you want to put some up for those mouth-watering Sweet Potato Casseroles and Sweet Potato Pie, however, here are some simple steps for getting them ready for your freezer.
Preheat oven to 375 degrees.
Wash sweet potatoes thoroughly.

Cut your potatoes so that they are fairly similar in size. This way, they cook more evenly. Place them on foil-covered cookie sheets and bake for about an hour.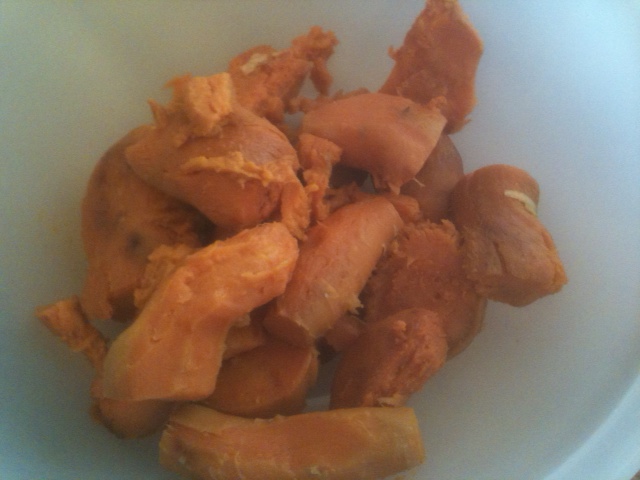 After they cool, peel off skins. Combine in a large mixing bowl. Add a splash of orange (or lemon) juice to prevent browning, and mash.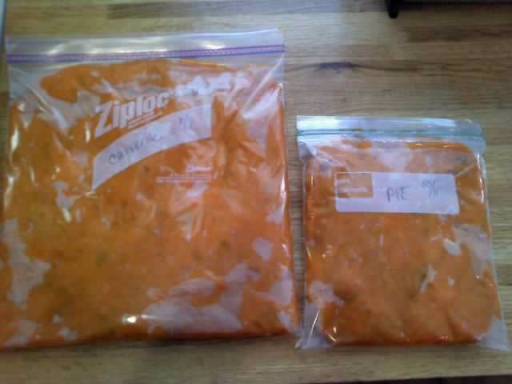 Transfer to freezer bags for storing. I filled the larger size bags with a casserole in mind, and the quart-size bags should do fine for pies.
Favorite Easy Recipes for Sweet Potatoes
Here are some of my favorite easy recipes for Sweet Potatoes.
Please share your recipes for Sweet Potatoes below.
============================
Have a recipe you would like to share either on your blog or elsewhere? If so, post the link below so that all the Faithful Provisions readers can easily find it. Be sure to make it easy to navigate by linking directly to your recipe post. Links going to the homepage of your blog or any other part of your blog besides the direct link to a recipe will be deleted. Posts promoting affiliate and referral links will be deleted.
Tip: Post the recipe name you are linking to in the link title. For example, Beef Wellington. Also, be sure to pick the matching image, it makes it so much easier to visually find the recipe you are looking for!